Timeless Bathroom Designs for Your Atlanta Home Remodel
Following bathroom trends can be fun from a design standpoint, particularly when you're thinking about remodeling. Keep in mind, however, that some trends provide a snapshot of that particular period, and they might not stand the test of time. If you're looking to create an aesthetic that will be relevant for years down the road, there are certain design elements to keep in mind. Here are a few ideas to help you start brainstorming how you can create a timeless, classic look for your bathroom.
Is It Possible to Create a Timeless Look in the Bathroom?
If you're worried that your bathroom design will look out of date within a few years, keep these tips in mind:
Keep it simple. Don't go overboard with too many different materials and finishes.
Think of a smaller tile format for the floors (i.e. hexagon, penny tile, mosaic patterns…).
A black-and-white color scheme is a sure bet.
Consider a freestanding bathtub.
Use brass fixtures and hardware for a classic look.
There are many options within these categories, so there will be plenty of space to stretch your creative muscles and create a design that is unique and distinctive.
Need to know how much a bathroom remodel costs? Check out our guide.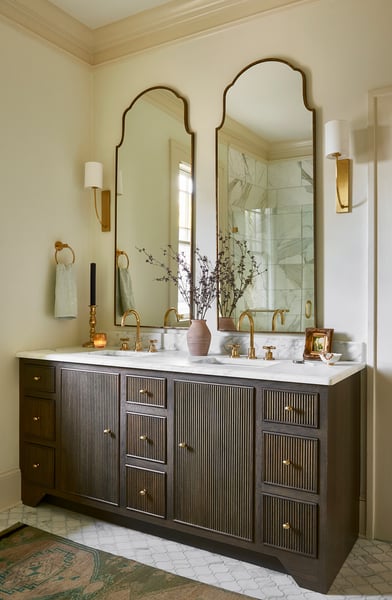 What Are Some Bathroom Trends That Will Never Go Out of Style?
Although trends fade in and out, a few things always seem to be in fashion when it comes to bathroom design. Make one or more of these choices in your bathroom remodel, and you'll be happy with it for years to come:
Subway Tile Shower
There's a reason that subway tile remains such a popular option for kitchens and bathrooms. It reminds you of the classic look of the New York subway system, which is so iconic that you might recognize it even if you've never been there. Staggered rectangle-shaped tiles provide the simplest repeating pattern you can imagine. Made out of glass, ceramic, or natural stone, they're a perfect addition to the shower.
Freestanding Bathtub
Oh, the ability to take a long soak in a freestanding tub big enough to hold all your dreams! It's been a goal of homeowners since the 18th Century, so it's no surprise that this choice is a standard in larger bathrooms. You can go vintage with a clawfoot tub or get a flat-bottomed style that works in a minimalist bathroom. It's a popular option to go in a wet room bathroom design. You can hop in the bath, pass through to the shower, then continue on with your day.

Marble Tile Bathroom
Marble is truly a classic tile that seems to never go out of style. The broad canvas of white reveals startling veins of black, gray, and even gold. Marble is one of the best timeless bathroom tile ideas. It looks clean, sleek, and sophisticated. With good care, marble will hold up to wear and tear and remain aesthetically relevant for years to come.
Wondering about the ROI of a bathroom remodel in Atlanta? We've got some information for you.
Layered, Subtle Color Palette
Although many people might say that a single-color bathroom is the most timeless option, there is certainly something to be said for a layered color style. Two-tone bathrooms have been prominent options since the Art Deco and Mid-Century Modern movements. Consider black on white for a classic look, or go more modern with white and natural wood tones.
Vintage Bathroom Faucets
Old bathroom faucets were built to last and could stick around longer than you'd think. With careful upkeep and restoration, some of those solid brass faucets could be a perfect addition to your home. Even if you don't have access to truly vintage items, you can certainly choose options that mimic the look.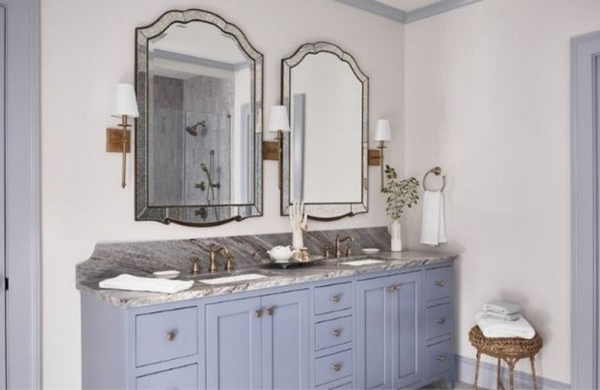 Eco-Friendly Bathroom
Although the concept of environmentalism can seem trendy to some, an eco-friendly bathroom is not. There are plenty of ways that you can make your bathroom suitable for modern use while keeping sustainability top of mind:
Towels and washcloths made with natural, sustainable fabrics
Aerators on the faucets to use less water
Low-flow toilets
Tankless water heaters
LED bulbs
You can add one or all of these to decrease your water and energy consumption.
Antique-Style Bathroom Hardware and Accessories
The best thing about timeless bathroom design is that you can pull in those antique elements from anywhere, and they will still look perfect. If you own an older home, you might already have antique mirrors, towel racks, and more. A bit of polish and a new frame (or restoration of the old one) could make it look as good as new!
Which Is the Best Color for a Timeless Bathroom?
Whites and subtle neutral tones tend to stand the test of time in bathroom design. Many people also opt for black or gray to accent white to create a truly timeless look. But don't feel like you have to limit yourself to those colors. You can introduce blues and other soft hues and still achieve a classic look.
Achieving a timeless aesthetic for your bathroom isn't as difficult as you might think. At Copper Sky Design + Remodel, we have years of experience bringing vintage and classic styles to life. Contact us to learn more about our services or to schedule an appointment.