Timeless Vanity Designs for Your Atlanta Bathroom
Imagine yourself standing in your newly-remodeled bathroom. It's early in the morning and you're thinking about the day ahead. Wouldn't it be nice to start your day off in a beautiful space, with your toiletries and accessories organized just so? Your vanity could serve as that timeless and functional focal point.
Copper Sky Design + Remodel's award-winning design team can guide you with design ideas for the vanity and your overall bathroom. Our decades of experience as remodelers equip us to build exactly what you've imagined and elevate your home's design. We're here to help you find - or create - the perfect vanity for your new bathroom.
Timeless Bathroom Vanity Ideas
Classic bathroom vanities are not one-size-fits-all. Your bathroom vanity can set the vibe for your entire bathroom remodel, so it's important to consider it carefully. Popular bathroom vanities and personalized touches are not mutually exclusive. Use our top tips to find a trendy but timeless vanity you'll love long into the future.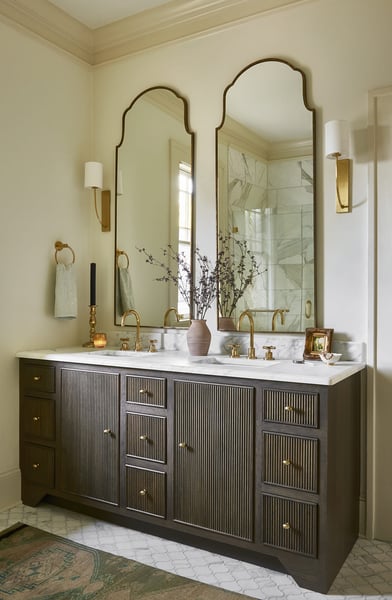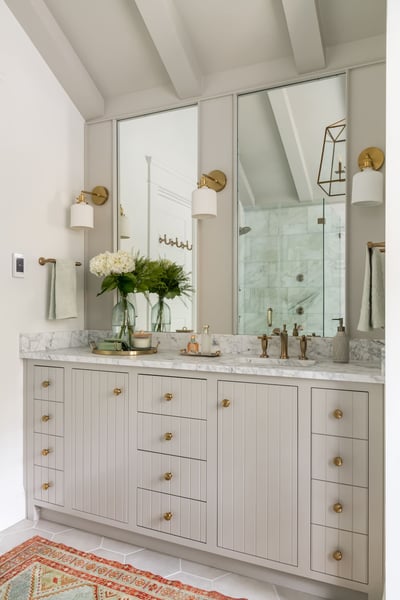 Modern Wood Floating Vanity
Wood tones are excellent for modern vanities. Though you can use natural stain to highlight the grain of any style vanity, sleek and angular modern vanities look lovely with the contrasting imperfection of wood grain. We love a well-executed floating vanity. Because the wall supports the vanity's weight, these are best installed by pros. Depending on your new vanity's height, choosing one that leaves room underneath creates easy access for folks in wheelchairs who might need extra legroom while using the sink.
Building accessible bathroom features, even when you don't currently need them, creates peace of mind while you reside in your home and an attractive selling point at resale.
Vanity With Seating Area
Prep for your night out in style with a dedicated vanity space with a seating area. Set everything up for easy reach and access, build in a magnifying mirror and extra task lighting, and create a recessed area to tuck your seat out of the way when not in use. If you're a beauty product connoisseur, additional storage for your vanity with seating is essential to ensure you have the products you need at your fingertips to get every look just right.
Double Vanity or Duo Vanity
Many people are familiar with double vanities. If you plan to share your bathroom with a partner, an extra-long space with two sinks makes sense to create separate zones for each person's domain. Some clients opt for one sink and more counter space in their extra-long vanity to accommodate their storage needs. Consider your bathroom remodel a great opportunity to buck tradition and get even more personalized prep solutions for your daily routines.
We see more clients than ever before choosing to disconnect their double vanities to create two separate vanity areas in the bathroom instead of the expected double vanity. Some even opt to keep the double vanity and add a bonus vanity near the shower or just outside the main affair to further ensure that one space hog doesn't dominate the bathroom schedule.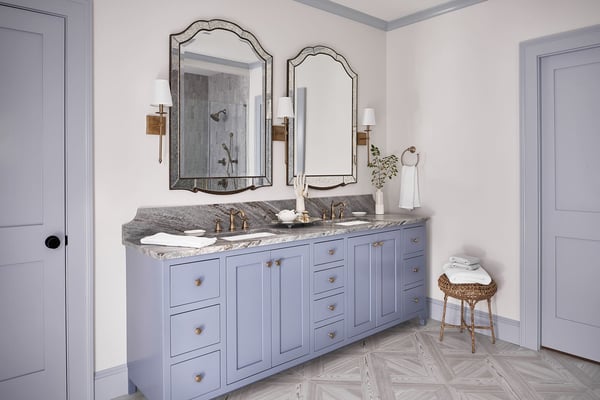 Bathroom Vanity with Open Shelves
Open shelving is increasingly popular for bathroom remodels. One huge advantage of keeping the items you store in your vanity visible is that it allows guests to quickly find a towel or a tissue without having to rummage through drawers and cabinets. Open shelving also invites homeowners to distill the items they display to the essentials, eliminating overwhelming clutter.
Custom Antique Vanity
Your bathroom renovation could use a little vintage authenticity, especially if you're channeling a specific era or aiming to provide continuity with an older home. Many homeowners aren't aware that they can use upcycled elements in a professional remodel. Quality furniture from days gone by can lend its sturdy structure to a whole new purpose. Sideboards, dressers, cabinets, and more can be elevated into custom vanities that give your bathroom an old-world appeal that is difficult to match with modern offerings. Your designer is a great resource for sourcing candidates for your bespoke vintage vanity project.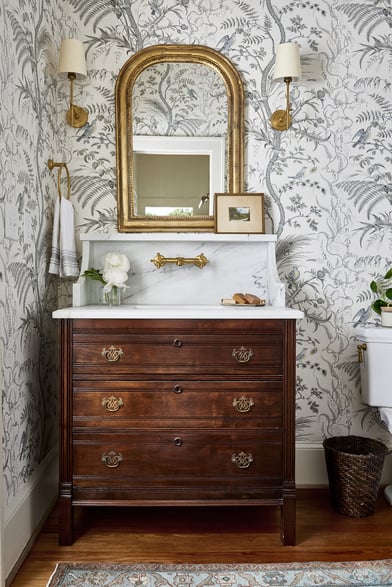 Popular Colors for a Bathroom Vanity
Your vanity can be any color you like. However, timeless vanity style favors a few popular colors. Choose warm-tinged neutrals like beige, and pink-infused browns to capture of-the-moment shades that will age with grace. Other great color candidates offer spa-like serenity with gray, green, and blue. Natural wood tones are also excellent for vanities. Consider mixing paint with wood grain for a two-toned or mixed-material vanity.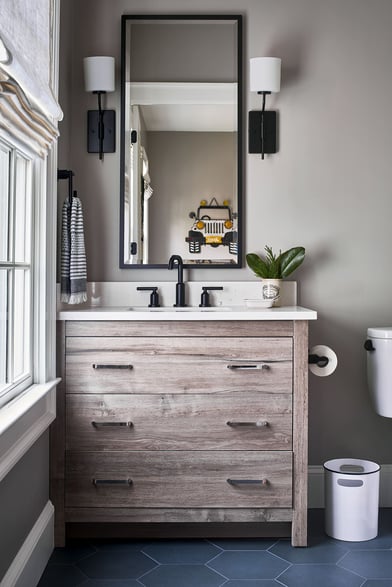 Need more resources to plan your remodel? We've got you. Head here for more insider information and insight.
The Sky's the Limit for Your Atlanta Bathroom
Copper Sky Design + Remodel lovingly elevates Atlanta residential spaces with bespoke remodels. Our service area is rich with history and architectural splendor. Our experience, skill, and finesse equip us to create stunning remodels that respect your home's history and pave the way for your future. We're honored to be trusted to work in your most personal spaces and we can't wait to get started on your behalf. Reach out today to tell us more about the Atlanta home remodel you've got in mind.