4 Ideas for Your Newly Remodeled Basement
When you think about the unfinished basement in your Atlanta-area home, it can be hard to envision what it can be. Your basement, however, can be one of the great untapped sources of highly usable space in your home. It's one way you can add space to your home without actually adding to your house's footprint. What are some of the options? Here's a look at four fantastic finished basement designs that can offer inspiration.
Option #1: Home Theatre
A great way to take advantage of the unused space beneath your feet is to create a home theater in your basement. Often Atlanta basements are ideally situated for this purpose because they don't have a lot of outdoor light to deal with. But that doesn't mean this space has to be dark and dreary.
That's why you'll want to think about the different kinds of lighting you want to install that can make the room comfortable to be in before, during, and after your watch movie, sports events, or engage in gaming.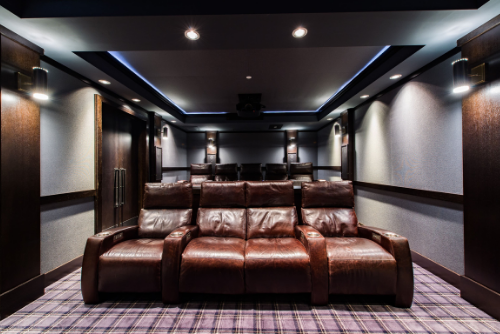 Photo by Gilbert Design-Build
You'll also want to think about insulating your basement theater space to make it comfortable—and to keep the sound from your viewing in the basement. Thinking about your wiring needs before you begin construction is important.
Think about wiring for speakers as well as lights and additional outlets. The layout/design of the room is critical as well. You'll want to elicit design advice from your builder to make sure you get the maximum enjoyment both visually and audibly.
Option #2: Kids Play Room
Whether you are parents or grandparents, a great playroom is a huge advantage if smaller children are part of your life. A basement is a great place to create a "Kid Zone" that is fun—and doesn't have to be completely picked up when guests come over. The options are myriad.
Photo by Bellweather Design-Build
You can create a fun schoolhouse, an art studio, or even a sports-themed room. A good design-build remodeler can help you maximize the space and create a room that is bright, fun, and safe.

[Read More: Incorporating a Playroom into Your Atlanta Remodel]
Option #3: Guest or In-Law Apartment
Whether you have young adults living at home, older family members who live with you and need some space of their own, or guests that visit regularly, a guest or in-law apartment can be a real treat. A basement "suite" doesn't have to feel like a dungeon! Pictured here is a basement space we created recently that shows you how bright, stylish, and welcoming this kind of space can be.
This particular project includes a small kitchen (with a small sink, drink refrigerator and a seamless counter to backsplash transition). And in the bathroom, subway tiles line the shower and the built-in shelf features smaller darker tiles for a statement of interest. It's a great private space for a weekend or a longer-range visit. Click here for additional images of this basement project.
Option #4: Wine Cellar
If you enjoy collecting wines—and sharing them with your friends and relatives, you may want to consider putting in a wine cellar like the one you see here that we built for a client recently (Click here for a closer look). It's a great way to store your wine, show it off a bit, and enjoy tastings whenever you want to.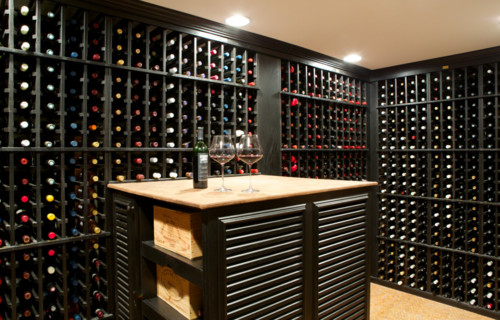 You'll want to control the light and temperature in this kind of room, but that's not a huge issue when you're working with a qualified design-build contractor. The good news is that adding a wine cellar to your Atlanta home may be easier than you think!
What's Your Vision for Your Basement?
These four ideas are just the tip of the iceberg when it comes to exploring the possibilities of taking full advantage of your unfinished basement. What's your vision for the under-utilized space in your Atlanta home? As an experienced and qualified design-build contractor (specializing in older homes in the Atlanta area), we can help you plan, design, and create the perfect space that fits your family's lifestyle and sense of design.