Creating Your Dream Basement from Scratch: Digging Out, Designing, to Done Deal
Are you looking to transform your basement into a stunning living space that reflects your unique style and meets your family's needs? The journey from a blank slate to a dream basement is an exciting one, but it requires careful planning and execution. In this blog post, Copper Sky Design + Remodel, the leading remodeling company in Atlanta, will guide you through the process of creating your dream basement from scratch. From excavation to interior design, we'll cover every step, providing valuable insights and design tips along the way. So, let's dive in and explore how you can turn your basement into a masterpiece.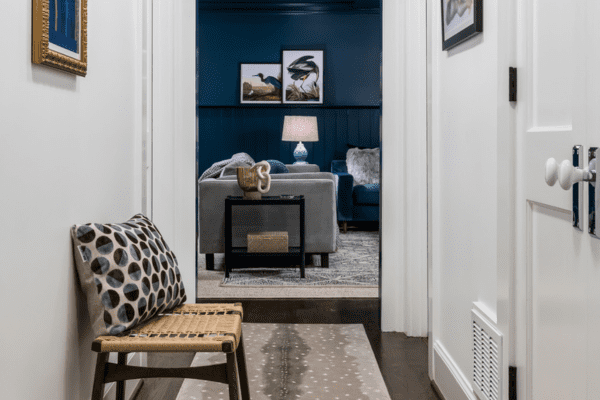 What Does it Mean to Excavate a Basement?
Some basement heights need to be made taller in order to serve as functional living spaces. The height of basement ceilings can vary depending on building codes, personal preference, and the intended use of the space. In general, the standard height for a basement ceiling is around 8 to 9 feet. Many older homes in Atlanta have considerably shorter ceiling heights in their existing basements and even simple crawl spaces. That doesn't mean homeowners with shallow basements are out of luck. You can often dig beneath your basement to get the increased height you desire. This is excavating a basement.
How Do You Excavate a Basement?
There are several relevant basement excavation options that are important to understand. Consulting with a professional basement excavation contractor or structural engineer is essential to determine the most suitable method for your specific project.
Benching
Benching is an excavation method where the basement walls are sloped or stepped to create a series of horizontal levels or benches. This technique is typically used when the soil conditions are stable and can support the sloping walls. Benching allows for more usable space within the basement, as it minimizes the need for retaining walls. It is a cost-effective option compared to underpinning but may have limitations depending on the soil conditions.
Underpinning
Underpinning involves strengthening and stabilizing the existing foundation of a building to allow for deeper excavation. It is typically used when the existing foundation is insufficient or unstable to support the desired basement depth. Underpinning can be achieved by either extending the foundation downwards or creating new foundations adjacent to the existing ones. This technique requires careful engineering and construction to ensure the structural integrity of the building during and after excavation. Underpinning is a more complex and expensive method compared to benching but provides greater flexibility in basement depth and design.

See for Yourself
Check out this stunning basement transformation on our Instagram.
Copper Sky's Basement Excavation and Remodel Process
At Copper Sky Design + Remodel, we have a formal and defined process for all project types, including basement excavation and remodels. This process ensures that you have a clear understanding of what will happen and when, providing you with peace of mind throughout your basement construction project. Read more about our basement services here.
Design Phase
To begin, we work closely with you to develop "as-built" drawings, schematic designs, and architectural plans for your basement to form the foundation of our plans. Our team of architects collaborates with structural engineers to ensure the design is not only aesthetically pleasing but also safe and durable.
Excavation Phase
Once the design plans are finalized, we proceed with the excavation. During this phase, we remove the soil and prepare the site for the new foundation. Our skilled crew ensures that the excavation process is executed efficiently and with the utmost care, keeping your property and surroundings intact.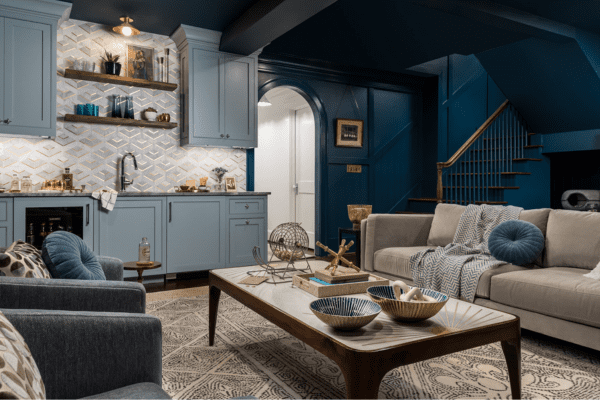 Interior Design (ID) Phase
After the excavation, we move on to the interior design phase. Here, we work closely with you to select finishes, such as flooring, tile, lighting, countertops, and other elements that will bring your vision to life. Our design team will guide you through the selection process, helping you create a cohesive and stylish basement space.
Buildout Phase
With the interior design finalized, we proceed to the buildout phase. During this stage, our skilled craftsmen and technicians install everything from mechanical systems to drywall, paint, countertops, and lighting. We pay meticulous attention to detail to ensure a flawless finish and a basement that exceeds your expectations.
Basement Excavation and Remodeling Timelines
It's essential to have a realistic understanding of the timeline involved in excavating and remodeling a basement. Typically, this process takes approximately 7-10 months to complete. The excavation phase usually spans around 3-4 months, while the buildout phase can take another 4-6 months. Keep in mind that these timelines may vary depending on the complexity and size of your project.
Design Tips for Basement Perfection
To help you design the perfect basement space, we've compiled a list of valuable tips. Consider these suggestions as you plan and create your dream basement:
Open Staircase Design: Opening up the stairs at the bottom and top, replacing walls with railings, creates a more open and connected feel between your basement and the main levels of your home, and provides more natural light.

Bar or Kitchenette: Consider incorporating a bar or kitchenette into your basement design. You'll be happy to have additional appliances for entertaining, such as a second fridge, wine or beverage fridge, and an ice maker.

Continuity in Finishes: Carry the finishes from the main levels of your home down to the basement. This approach ensures that your basement has a cohesive and consistent design with the rest of your home.

Head Height Considerations: Plan for extra clearance above the ceiling to avoid dropped soffits. Work closely with your HVAC subcontractor to integrate HVAC ductwork in a way that allows for well-integrated soffits. Ensure that structural beams are placed flush to maximize headroom.

Windows: Consider adding window openings where they may not be obvious, and ensure all bedrooms comply with egress code regulations. Clerestory windows (narrow windows close to the ceiling) can also be used in spaces that require additional natural light.

Flooring Selection: Choose suitable flooring materials that can withstand potential slab moisture. Engineered hardwood, luxury vinyl tile (LVT), and tile are excellent options for basements.

Lighter Colors and Finishes: If you desire a brighter and airier atmosphere in your basement, opt for lighter colors and finishes. They can help enhance the feeling of spaciousness and natural light.

Soundproofing: To create a peaceful and enjoyable environment in your basement, consider soundproofing measures. Install acoustic panels on the walls or ceiling to minimize sound transfer between rooms. Additionally, use heavy curtains or drapes to absorb sound and reduce echo.

Air Circulation and Ventilation: Basements often have unique challenges regarding air circulation and ventilation. To ensure a comfortable and healthy environment, install proper ventilation systems, such as ceiling fans, exhaust fans, or dehumidifiers. This helps control moisture levels, prevent musty odors, and maintain good indoor air quality.
Creating your dream basement from scratch is an exciting and rewarding journey. With Copper Sky Design + Remodel by your side, you can turn your vision into a reality. Our meticulous process, expert artisanship, and attention to detail ensures that your basement remodeling project exceeds your expectations. Whether you're seeking additional living space, a home office, a media room, or a personal gym, our team will guide you through each step of the process. Contact Copper Sky Design + Remodel today and let us transform your basement into a stunning masterpiece.