Elevate Your Outdoor Living Space with 13 Must-Have Features in Atlanta, GA
Your outdoor space offers new opportunities for amenities and relaxation. If your backyard oasis is underwhelming, it's time to maximize your space's potential by adding enticing outdoor living features. Copper Sky Design + Remodel is the go-to company in Atlanta, GA. With a wealth of experience in transforming grand and historic homes, our expertise in creating elevated outdoor living spaces is unparalleled. Ready for the must-have features that can truly elevate your outdoor living experience? It's time to dream up and execute a custom backyard space that is both functional and luxurious.
Fire Feature
A fire feature like a fire pit, fire bowl, or fireplace is an essential element for any high-end outdoor living space. It adds warmth, ambiance, and creates a focal point for gathering and entertaining. Our expert team integrates fire features with the overall design of your outdoor space creating a cozy and cohesive appeal.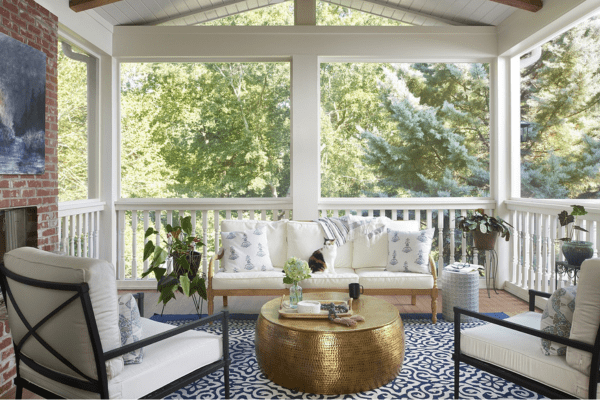 Outdoor Kitchen
Elevate your outdoor cooking experience with a custom outdoor kitchen. Complete with top-of-the-line appliances, luxurious countertops, and ample storage space, an outdoor kitchen allows you to entertain guests while preparing meals in style. Our outdoor kitchen designs in Atlanta are tailored to your specific needs and preferences, ensuring a functional and aesthetically pleasing culinary oasis all year.
Grilling Station
No outdoor kitchen is complete without a high-quality grilling station. We work with premium summer kitchen grills and incorporate them into the overall design, allowing you to showcase your culinary skills in a luxurious setting. From built-in grills to custom cabinetry, our Atlanta patio builders will create a grilling station that is both practical and visually stunning.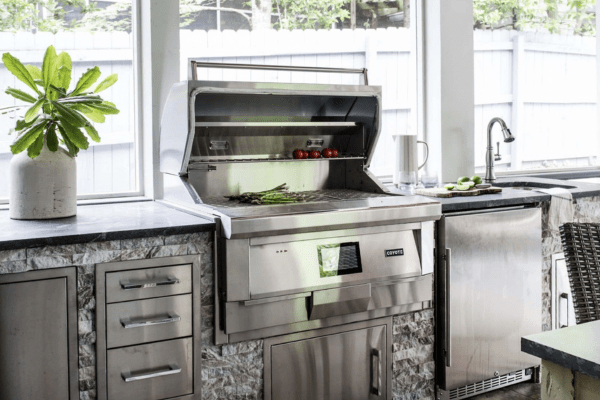 Passthrough Window
Enhance the connection between your indoor and outdoor spaces with a passthrough window. This architectural feature allows for easy access to your outdoor kitchen and facilitates seamless entertaining. Whether you're hosting a summer soirée or enjoying a quiet evening with family, a passthrough window adds convenience and elegance to your outdoor living space.
Heating Unit
Extend the usability of your outdoor living space beyond the summer months with a heating unit. Stay cozy and comfortable during chilly evenings with a carefully integrated heating system. Our experts will select the perfect heating unit for your outdoor space, ensuring that it blends seamlessly with the overall design while providing optimal warmth.
Pool House
If you have the luxury of a pool, a pool house is a must-have addition to your outdoor living area. Our team excels in designing and constructing pool house structures that complement the grandeur of your home. From changing rooms to lounging areas, or even an extra bathroom, we create custom pool houses that are both functional and beautiful, providing a private oasis for relaxation and entertainment.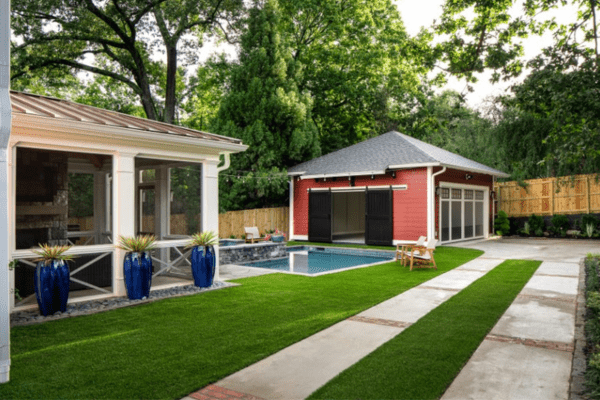 Accessory Dwelling Unit (ADU)
In grand and historic homes, detached spaces like ADUs offer additional living areas for guests or extended family members. Whether you need a guest suite, a home office, or a private retreat, our team can design and build ADUs that match the architectural style and charm of your home, creating a harmonious outdoor living environment.
Artist Studio
Detached artist studios are ideal for creative individuals seeking a dedicated space to unleash their talents. We understand the unique requirements of artists, musicians, yogis, and more and can design and build detached studios that inspire and facilitate artistic endeavors of all kinds. From ample natural light to custom storage solutions, sound proofing to built-in displays and workspaces, our artist studios are tailored to meet the specific needs of each client.
Outdoor Bar
Create a sophisticated entertainment area with a custom outdoor bar. Incorporate elegant countertops, built-in storage, and a stylish seating area to provide a luxurious space for mixing drinks and socializing with guests. Our Atlanta patio builders can design a bar that seamlessly integrates with your outdoor kitchen and overall design aesthetic.
Outdoor Lounge Area
Transform your outdoor space into a cozy and inviting lounge area. Incorporate comfortable seating options, such as plush sofas, lounge chairs, and ottomans, paired with luxurious patio furniture. Add decorative elements like outdoor rugs, throw pillows, and blankets to create a stylish and relaxing ambiance.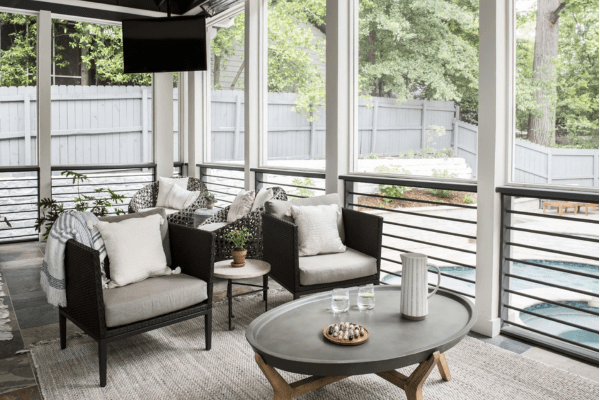 Outdoor Dining Area
Enjoy al fresco dining at its finest with a dedicated outdoor dining area. Our team can create a custom-built dining space complete with an elegant dining table, comfortable chairs, and overhead lighting. Incorporate features like a pergola or retractable awning to provide shade and protection from the elements, ensuring a delightful dining experience.
Outdoor Entertainment System
Take outdoor entertaining to the next level with a state-of-the-art outdoor entertainment system. From weather-resistant flat-screen TVs to outdoor sound systems, our experts can design and install a custom setup that allows you to enjoy movies, music, and sporting events in your luxurious outdoor living space.
Outdoor Lighting
Illuminate your outdoor living space with strategically placed lighting fixtures to create a captivating ambiance. Incorporate a combination of soft ambient lighting, accent lighting to highlight architectural features and task lighting for functional areas. LED lighting options offer energy efficiency while adding a touch of sophistication to your outdoor design.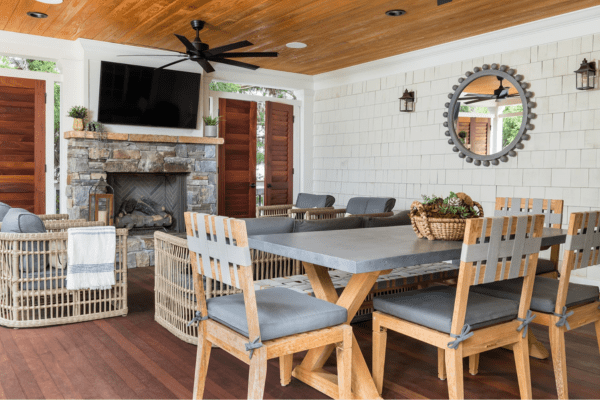 Water Features
Add a touch of tranquility and elegance to your outdoor living space with a water feature. From a serene water fountain to a cascading waterfall or even a luxurious spa, the soothing sound of water creates a sense of relaxation and enhances the overall atmosphere of your custom backyard space.
Outdoor Structures
Consider adding unique outdoor structures to further enhance your luxury outdoor living space. This could include a pergola for shade and architectural interest, a gazebo for a private retreat, or a covered pavilion for outdoor entertainment. These structures provide functional and stylish additions that elevate the overall design aesthetic.
Elevating your outdoor living space to a new level of luxury and sophistication is possible with the expertise of Copper Sky Design + Remodel. By incorporating must-have features, you can create a truly custom and extraordinary outdoor living experience. Contact us today to transform your Atlanta, GA backyard into a breathtaking oasis of luxury and comfort.
Copper Sky Design + Remodel specializes in creating custom outdoor living spaces tailored to your needs and preferences, ensuring that every aspect of your project reflects the elegance and grandeur of your home.