8 Big Remodeling Ideas for Small Spaces
1. Open Up Your Space
Before you start looking at creative storage solutions for your small home remodel, take a look at the structure of your home. Is it segmented by lots of walls and separate rooms? Nothing shrinks the space of your home, as much as tightly compartmentalized halls and rooms. This doesn't mean you have to opt for an entirely open floor plan, but opening up some of the space can bring in more light and allow for a better flow.
2. Create Distinct Zones
If you think opening up your home might be the right option for you, there's one more small home renovation idea you might want to consider: creating distinct separate zones in your home, each one designated for its own specific purposes. This can make your home more functional while also helping it feel more spacious.
Create visual separation for each zone through the use of varied flooring material, area rugs, or distinct but cohesive décor. This tricks the eye into thinking that each room is larger than it is because each is delineated. If you decide to remove walls, for example, between the kitchen and a dining area or a family room, you'll still want to maintain the character of each room. At the same time, you'll need to consider that your kitchen will be visible from your dining room or family room and vice versa. That means you should keep your distinctions subtle so that one room flows into the next. Some homeowners opt for a half wall to distinguish the boundaries between rooms. Others choose an open bookcase to divide the rooms because it functions as extra storage while still allowing you to look through into the other space.
3. Find Out Whether There's More than Meets the Eye
Remember that your house may hold more than meets the eye. There are sometimes hidden spaces in homes, especially in older homes where ceilings have been lowered, nooks have been walled-over, or attics and alcoves have been boxed off. Ask your contractor to examine your home to see if it hides any such unexpected spaces.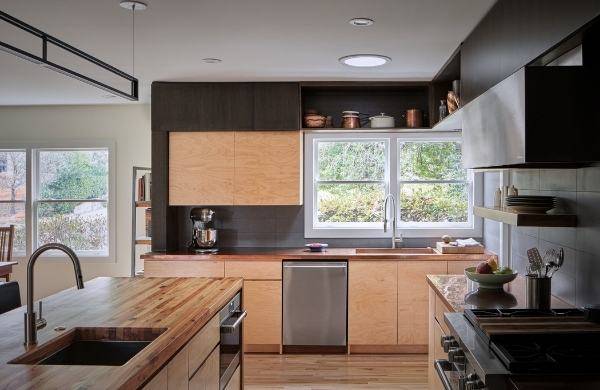 4. Use Smart Storage
Another principal component of maximizing space in a small house is smart storage. Smart storage is personalized to your home's specific storage needs. Often, this looks like storage containers that precisely fit both the items they house and the area in which the container is housed, such as a cabinet, pantry, or closet.
Take, for example, your kitchen. Creative kitchen cabinetry storage devices provide smart storage for tight spaces that make efficient use of space. Customized storage space in the kitchen allows you to take advantage of smaller, "odd" spaces that might otherwise go unused. For example, try making use of the space between your countertop and fridge by installing a slide-out rack that can be used to house spices, baking sheets, and other kitchen utilities. Other smart storage solutions include under-the-bed storage, medicine cabinets, door organizers, and multifunctional furniture.
5. Think Up and In Instead of Out
In order to accommodate more buildings and people, large cities often build up rather than out. The same principle applies to your home storage. For example, when designing your bedroom, ask your contractor about custom carpentry solutions such as beds and desks that fold down from the wall or dressers and shelves that are built into walls.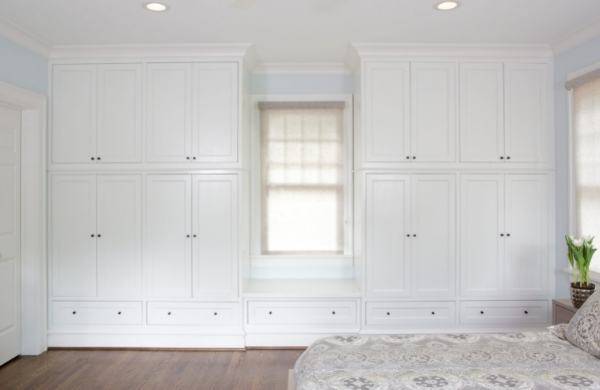 As an example, if you're looking for a limited-space bookshelf design for a small room, you might consider actually building bookshelves into the walls between the existing studs.
6. Add Floating Furniture and Open Shelving
Bookshelves, cabinets, side tables, and other furniture pieces are great for adding extra storage, but sometimes the storage they provide isn't worth the space they take up. The solution to this problem is floating furniture. Floating furniture can come in many different forms — from a minimalistic bathroom sink to suspended bookcases, bedside tables, and vanities. This storage solution is not only visually pleasing, but it also frees up floor space that would normally go to waste. You can fill the floor space with baskets to add more storage or leave it empty to help your home feel larger and less cluttered.

Open shelving produces a similar effect. A great way to display your favorite books, photographs, or decor, open shelving allows you a place to store items without blocking visual lines which makes your space feel free and airy. This technique works in kitchens, bedrooms, living rooms, and offices as well as in bathrooms.
7. Take Advantage of Hidden or Unused Spaces
Remember tip number two? Well, if your contractor found any hidden spaces, here's the part where you figure out how to get the most out of that extra space. In addition to any hidden rooms or alcoves, search around your home to find odd nooks and crannies you've discounted as unusable. You can take advantage of these spaces by adding shelving, furniture, or other storage solutions.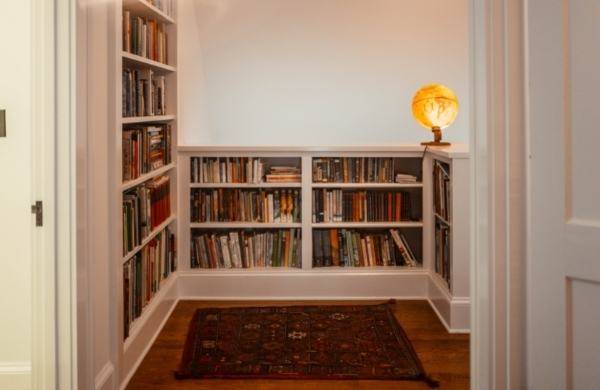 Opening up those spaces not only adds additional living space, but it can also add intrigue. The bookcase alcove you see here is a great example of taking advantage of what might have been wasted space. Instead of a space that's easy to ignore, this small alcove is an inviting place to linger.
Another commonly unused space is the underneath of a staircase. You can utilize this area by adding a minibar under the stairs in a remodel, creating an extra storage closet, or adding seating for a cozy reading nook.
An additional bonus to taking advantage of hidden spaces is that it allows you to rearrange household items. You may have family heirlooms or pieces of art you want to display. That can free up space in your central living areas, to create an uncluttered and more spacious feel.
8. Let There Be Light
Finally and most importantly, maximize your light. Natural light can work wonders. It brightens dark dingy rooms, adds energy to your home, and can even help improve your health.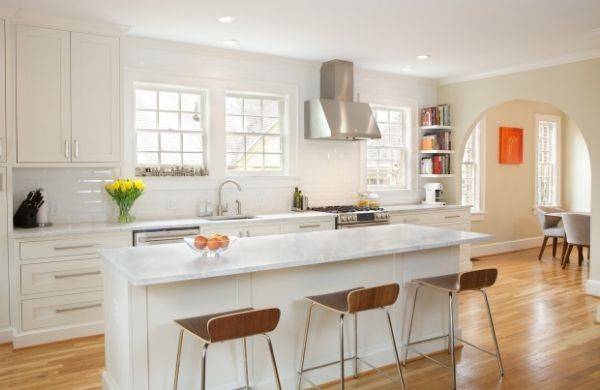 Make the most of the light you have in your home by opting for paler colors that reflect light. This doesn't necessarily mean you have to choose an entirely unsaturated color palette for wall paints, flooring, and décor — though doing so always helps — but it does mean you should design your home to consciously introduce more outdoor light through windows, glass doors, and solar tubes. You can also maximize light (and thereby your visual space) by strategically placing mirrors. Mirrors can add brightness by bouncing light from your window into other areas of the room.
As important as natural light is, you don't want to overlook installed lighting. Keep in mind, however, that what you want is not just more lighting, but the right kind of lighting. This is particularly important in your kitchen. It's essential to have great task lighting so you can see while chopping, sauteing, or washing dishes. You'll also want good under-counter lighting so that you can see when you're working under a counter that would otherwise block light.
Pendant lighting is helpful over tables or kitchen islands and it also adds a bit of elegance to the room. Adding recessed lighting, particularly dimmable lighting, is another nice touch that allows you to have plenty of light when you're working in the kitchen — and then lets you create a softer mood by dimming the lights.
Want to see these ideas in action? Copper Sky Design + Remodel has been designing beautiful, efficient spaces for almost two decades. We put a premium on customer satisfaction, dedicating ourselves to creating homes that look good and feel good. Whether you want a small space makeover, porch addition, or historic home renovation, the Copper Sky team has services and experience you need to get the job done. Get started today.