8 Big Remodeling Ideas for Small Spaces
1. Expand Your Horizons
Tired of living in a cramped home? Our first remodeling idea for a small space is to open your rooms.Particularly in the heart of your Atlanta, GA home, nothing shrinks a space as much as tightly compartmentalized halls and rooms. This doesn't mean you have to opt for an entirely open floor plan, but it does mean you should consider losing unnecessary walls, as in this craftsman home renovation.
One of the advantages of an open floor plan—even if it's a curtailed version—is that eliminating structural elements can significantly improve the visual space within a home. Eliminating some interior walls opens up space and allows more natural light into the house. For instance, it means that the natural light coming in through the kitchen windows also reaches into the family room or dining area—and vice versa. That creates a sense of increased space—even if you don't actually gain physical square footage.
2. Create Distinct Zones
When you take down walls, you don't have to lose room designations. Make each zone distinct through the use of varied flooring material, area rugs, or distinct but cohesive décor. This tricks the eye into thinking that each room is larger than it is because each is delineated.
If you decide to remove walls (for instance between the kitchen and a dining area or a family room) you'll still want to maintain the character of each room. At the same time, you'll need to consider that your kitchen will be visible from your dining room or family room (and vice versa). That probably means keeping your distinctions subtle so that one room flows into the next. Some homeowners opt for a half wall to delineate the boundaries between rooms. Others choose a bookcase to divide the rooms because it uses a physical object—but allows one to look through into the other space.
3. Find Out Whether There's More than Meets the Eye
Remember that your house may hold more than meets the eye. Especially in older homes, there are sometimes unseen pockets of space where ceilings have been lowered, nooks have been walled-over, or attics and alcoves have been boxed off. Ask your contractor to examine your home to see if it hides any such unexpected spaces.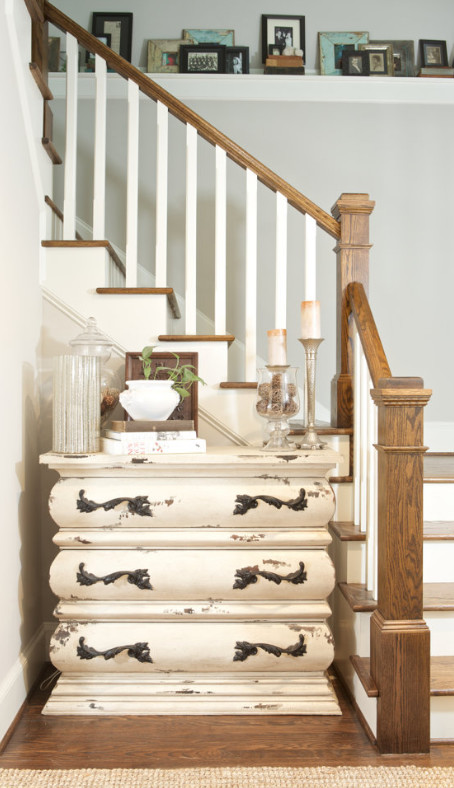 4. In the Kitchen, Use Smart Storage
Another principle of smart remodeling design ideas for small spaces is precisely fitting storage containers to the items they house. Creative kitchen cabinetry storage devices, like those offered by Hafele, provide smart storage solutions that can free extra space.
Customized storage space in the kitchen allows you to take advantage of smaller, "odd" spaces that might otherwise go unused. Adding a narrow custom cabinet can allow you to store baking sheets and pizza pans on their edges. It also makes them much easier to get out of the cabinet than pans that are stacked on top of one another.
5. In the Bedroom, Think Up and In Instead of Out
Just as large cities are often planned up and out to accommodate more buildings and people, so too you can consider how to creatively use your space by building up and in instead of out. For example, when designing your bedroom, ask your contractor about custom carpentry solutions such as beds and desks that fold down from the wall or dressers and shelves that are built into walls.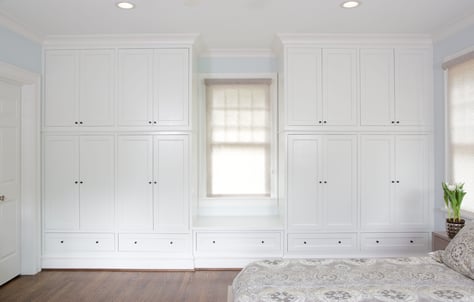 As an example, you might build bookshelves into the walls between the existing studs. That allows you to store books, artwork, ceramics, or anything else you want to add interest to your room. Another nice thing about taking that approach is that you add storage space without sacrificing useable floor space.
6. In the Bathroom, Add Floating Sinks and Open Shelving
In the bathroom, a great way to free foot traffic space is to add a floating, minimalistic sink. This can also be an attractive statement style choice. Similarly, open shelving allows you a place to store linens and personal items while not blocking visual lines. This technique works in kitchens, bedrooms, living rooms, and offices as well as in bathrooms.
7. Take Advantage of Staircase Storage
You may be surprised by the number of storage spaces your home houses when you look carefully. Take advantage of odd nooks and spaces under staircases by adding shelving or drawer storage.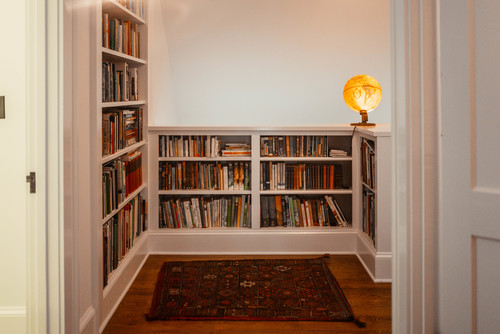 Opening up those spaces not only adds additional living space, but it can also add intrigue. The bookcase alcove you see here is a great example of taking advantage of what might have been "wasted" space. Instead of a space that's easy to ignore, this small alcove is an inviting place to linger.
An additional bonus to taking advantage of hidden spaces is that it allows you to rearrange household items. You may have family heirlooms or pieces of art you want to display. That can free up space in your central living areas, to create an uncluttered and more spacious feel.
8. Let There Be Light
Finally and most importantly, always introduce light. This doesn't necessarily mean you have to choose an entirely unsaturated color palette for wall paints, flooring, and décor—though doing so always helps—but it does mean you should design your home to consciously introduce more outdoor light through windows, glass doors, and solar tubes.
You can also maximize light (and thereby your visual space) by strategically placing mirrors. Never underestimate the power of visual perceptions in helping transform your limited square footage into a home where you can truly relax.
As important as natural light is, you won't want to overlook installed lighting. Keep in mind, however, that what you want is not just more lighting—but the right kind of lighting. This is particularly important in your kitchen. It's essential to have great task lighting (for specific tasks such as cutting and washing). You'll also want good under-counter lighting so that you can see when you're working under a counter that would otherwise block light. Pendant lighting is not only helpful over tables or kitchen islands, but it also adds a bit of elegance to the room.
Adding recessed lighting (particularly dimmable lighting) is another nice touch that allows you to have plenty of light when you're working in the kitchen—and then lets you create a softer mood by dimming the lights.