Color Trends You Can Expect to See in 2023: Design 101
It's that time of the year when we start to see color predictions, trends, and prognostications for 2023. Whether you're looking for trending furniture colors or general interior design trends, get inspired by the 2023 Colors of the Year with Copper Sky Design & Remodel.
What is the Color Trend for 2023?
If 2022 represented a shift away from the monochrome white and gray interiors that dominated the 2010s, 2023 solidifies the change. Colors for the coming year are bright and earthy, a sort of subdued exuberance that brings energy, life, and reverence for the natural world into modern homes.
In 2023, we expect to see every hue from lavender to yellow if these spring 2023 color trends forecasted for New York Fashion week are any indication. An emphasis on gentle, warm neutrals and dark moody earth tones with contrasts from deeply saturated greens, blues, browns, and sunny oranges, pinks, and reds is likely.
2023 Colors of the Year (So Far)
Though the Pantone Color of the Year 2023 has yet to be released, several prominent paint companies are already dropping their palettes for the year ahead. Let's take a look!
Sherwin Williams 2023 Color of the Year: Redend Point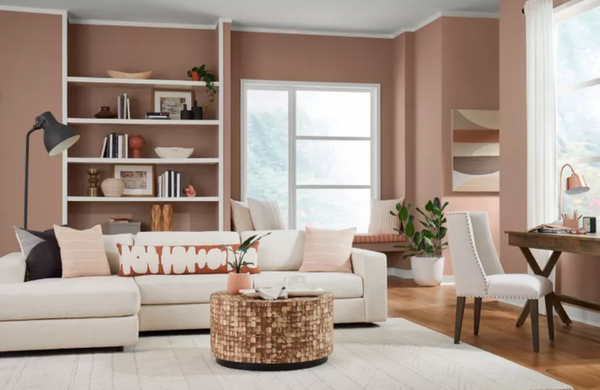 Sherwin Williams released an extensive four-part 2023 color forecast called Tera, but there's one shade, in particular, they're singling out. A creamy, calming mauve, Redend Point represents a shift towards warm, comforting interiors. Simultaneously neutral and striking, this hue is earthy with an undertone of beige. It's the color of the morning sky just before the sun peeks over the horizon, bathing everything in golden light.
Along with this primordial pink, the four color palettes (biome, lore, nexus, and origin) in Tera include deep bronzes and browns; greens that are reminiscent of the boreal forest; a wide range of mellow tans and creams with warm undertones; and finishes with pops of bright purple, red, orange, and yellow. Use these palettes to experiment with Sherwin Williams living room colors and other areas of your home.


Glidden & PGG Color of the Year: Vining Ivy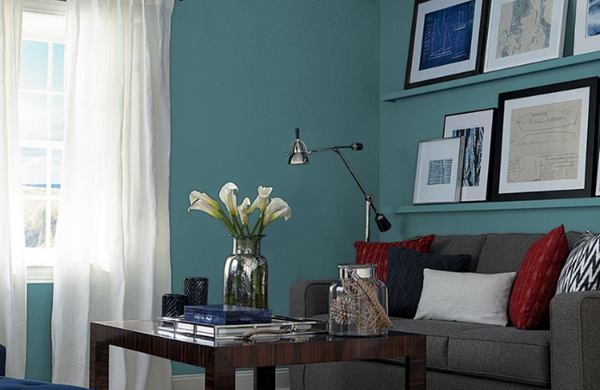 2022 was undoubtedly the year of green, so Glidden and PPG teamed up for a slight twist on last year's favorites. Their color of the year, Vining Ivy, is a vivid, jewel-toned blue-green. A hue of pine forests and ocean depths, Vining Ivy is a statement color described by PPG as "a deep, shaded, Caribbean aqua with a turquoise undertone." The dark, relaxing hue is perfect for a bedroom oasis but is also suitable to balance out the white tones of a cheery kitchen or bathroom.
In addition to their color of the year, both Glidden and PPG released color collections for 2023. Glidden features colors like Firefox Brown (an earthy orange), Spicy Mustard (a cherry yellow), and Cool Clay (a mid-tone neutral). Meanwhile, PPG shows off a much lighter and more neutral palette with colors like Shangri La (a peppy pink), Gothic Amethyst (a moody purple), Prophetic Sea (a grayish blue), and Earth Rose (a merlot with hints of brown).


Behr Color of the Year: Blank Canvas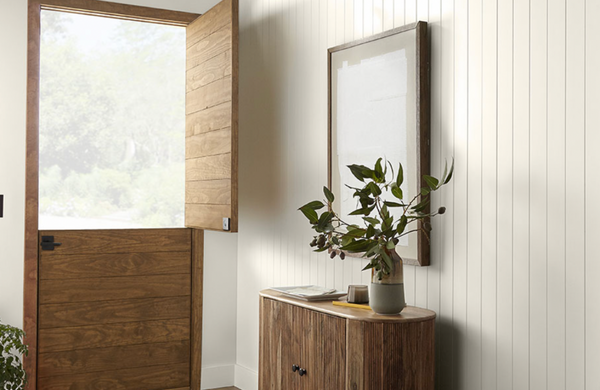 In contrast to the vibrancy of other 2023 color picks, Behr's Blank Canvas is a sweet respite. The creamy white shade isn't groundbreaking, but it's an excellent option for creating a calming, neutral interior: a blank canvas if you will. It's also a perfect shade to balance the more attention-grabbing colors in your palette.


Dutch Boy Color of the Year: Rustic Greige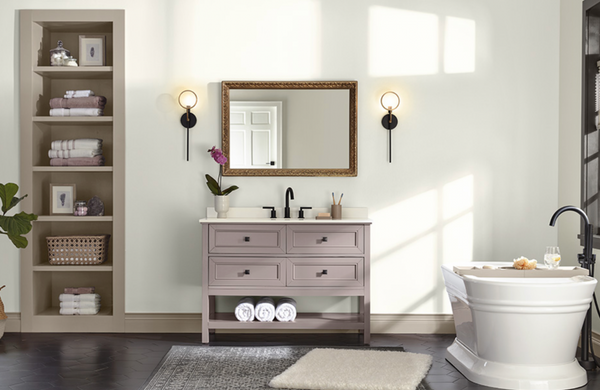 Dutch Boy's Rustic Greige has all the mutability and neutrality of Blank Canvas but with a little more color. The complex shade of tan and gray with a red undercurrent is a soothing presence that mixes well with pretty much any other color. Dutch Boy demonstrated the versatility of their chosen hue by releasing three color palettes — Plush, Wistful, and Botanic — that feature Rustic Greige. The palettes feature natural blues, greens, pinks, yellow, white, and brown as suitable partners for their 2023 Color of the year.


Valspar Colors of the Year
Valspar couldn't pick just one color of the year; instead, they selected 12! There's Southern Road, a mellow clay color similar to Sherwin Williams' Redend Point, and Everglade Deck, midnight blue-green like Vining Ivy. Valspar's collection also included two shades of light green and blue; a gorgeous terra-cotta with a name, Desert Carnation, that's just as beautiful; a pale violet; and several beige neutrals.
Benjamin Moore Color of the Year: Raspberry Blush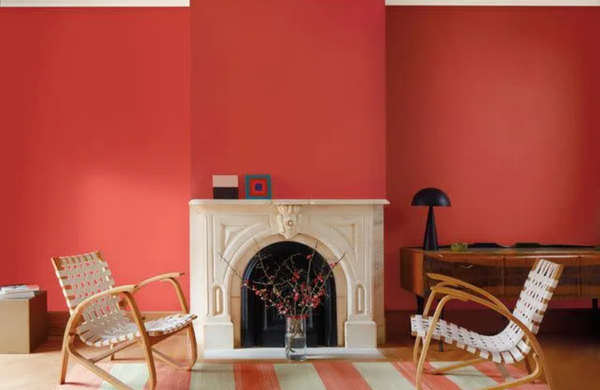 Benjamin Moore has taken the earthy, pink tones invading the popular color schemes of 2023 and dialed up the volume. Raspberry Blush is a coral tinged pink with deep pigment and a bold point to prove. Soft green and yellow-tinged neutral fabrics, natural wood, and potted plants will find the support they need with a backdrop of bold Raspberry Blush.
Color Your Home with Copper Sky
All this inspiration may have visions of color-soaked rooms dancing in your mind, but picking the right palette for your home is overwhelming. There are so many hues to choose from, and they each look different depending on room size, amount of light, the color of the flooring, and a million other factors.
Our designers are experts at wading through the sea of shades and helping our clients pick the best, most timeless colors for their homes. And our expertise doesn't stop there; we can help you with material choices, changing your floor plan, replacing appliances and fixtures, installing new lighting, and any other home remodeling needs.

Learn more about the possibilities of transforming your home.