Keeping the Historic Charm in an Atlanta Home Remodel
Copper Sky Renovations recently conducted a whole-house remodel in Morningside on an original Arts and Crafts home, and the result is an astoundingly beautiful and detailed home that preserves and accentuates all the best traits of its original design. Let's take a closer look at the first house in our new series of monthly project highlights.
The History of the Arts and Crafts Movement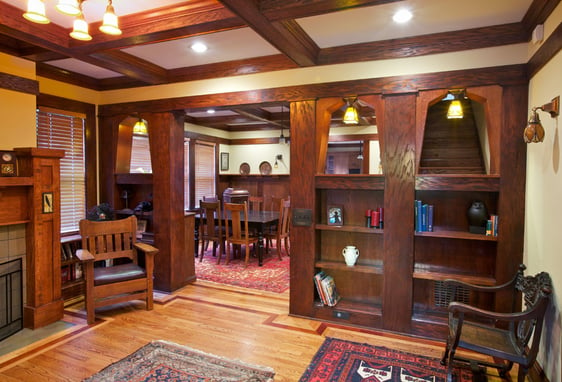 To fully appreciate Copper Sky's stunning renovation, here's a little history on the Arts and Crafts movement:The Arts and Crafts movement reached its high point between 1880 and 1910. It acted as a statement against the industrial era, asserting that craftsmanship, even at the expense of economic gain through mass-marketing, was well worth fighting for. Nowhere is this claim more evident than in the highly attentive work of Copper Sky's Arts and Crafts home renovation.
Intentional Simplicity
The more you look at the masterful craftsmanship in this renovation, the more you see. The custom kitchen cabinetry, mantle and fireplace trim, and the wall and trim work throughout the whole house feature the organic beauty of quartered sawn oak. This unity indicates the level of detail found in every room.
The simple and intricate forms of rectangular and reticular lines harmonize the whole project from cabinetry to windows to shelving, and even kickboard venting. Nothing is overlooked. It is precisely this level of specificity and design that make this home a masterpiece from every perspective.
It's the Small Things that Count
The integrity found in the artisanship of this renovation continues with the selection of lighting. Again, simplicity of line in design is highly stressed. Either new or rewired, period lighting illuminates all sitting spaces, dining spaces, kitchen work spaces, and the three transitional bookcases. Exterior front porch and back door lighting are included as well. But possibly the most playful and unexpected lighting is found in the architecture of the landing posts in the stairwell.
Ideas You Can Steal from This Atlanta Kitchen Remodel
In this Arts and Crafts home remodel, even the smallest pieces reflect the whole. The door knob hardware, lighting, and electrical plates have either been refurbished or replaced with period hardware. And the beaten, metal pulls found on kitchen cabinetry and furniture built-ins on the first floor along with opaque and dimpled glass both feel and look beautiful.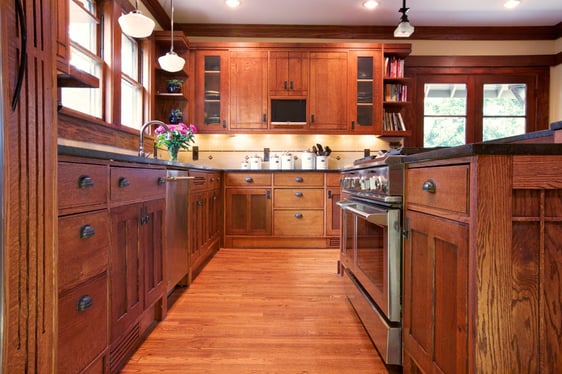 If you want your home to look, as this one does, like a well-curated museum, make sure that you're paying attention to even the smallest details. The more you can unify finishes, the more gorgeously finished your home will look.
Crafted by People
Copper Sky's renovation of this Atlanta home exemplifies the Arts and Crafts philosophy perfectly: beauty and integrity which endure are not to be found in mass production and manufacturing, but are built and crafted by people.