Featured Project – Whole Home Remodel in Midtown, Atlanta
A couple weeks ago, we took a tour of five of our favorite recent kitchen remodels. Among them (number two) was a sneak peak of this week's featured project—the gorgeous Midtown whole home remodel. Today, you get to see around the rest of this unique Atlanta home remodeling project.
Open to the Outdoors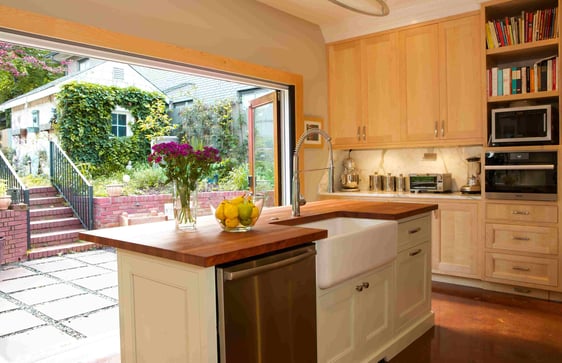 This home boasts a remarkably open design. Each room on the home's interior flows seamlessly into the next, with minimal visual interruptions between spaces. But what is more remarkable still is its openness to the natural world outside its walls.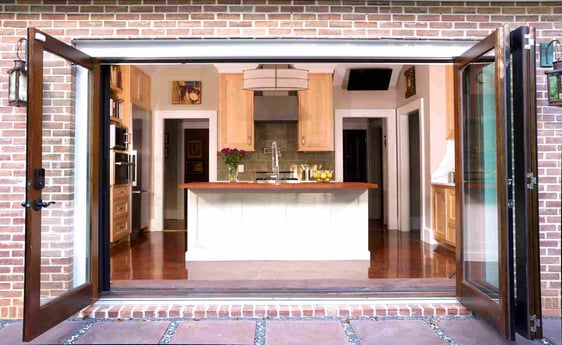 The home's biophilic design is most apparent in the kitchen, one entire long wall of which opens to the backyard's Edenic garden. The kitchen is not separated from the garden by a single-paned door or even French doors, but by four adjacent doors, all made mostly of glass, which can be opened in unison to provide an uninterrupted view of the outdoors.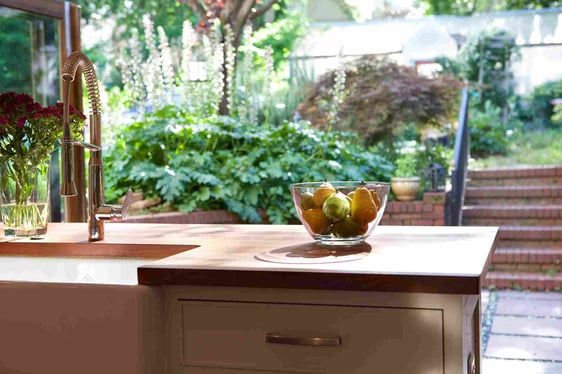 Yet this desire to center indoor living in an awareness of outdoor serenity is apparent in every area of the home. The upstairs office, for instance, has devoted its entire exterior wall to windows that introduce cheery natural light. The bathroom, too, features as many windows as possible without compromising privacy and makes up for any lack of light by positioning broad mirrors opposite every window.
Mirroring Nature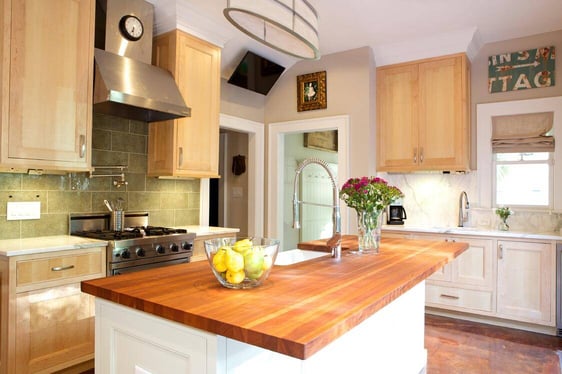 Perhaps what is more striking still in this Atlanta home remodeling project is its careful material selection. Every installation combines to create a bucolic indoor reflection of outdoor perfection.
Notice, for example, the prevalent use of natural wood throughout, including the butcher-block island countertop, the unstained kitchen cabinets, refinished hardwood floors, exposed office beam, bathroom vanity, and especially the striking, backlit wall of the walk-in-shower, which appears to be the cross-section of an august tree.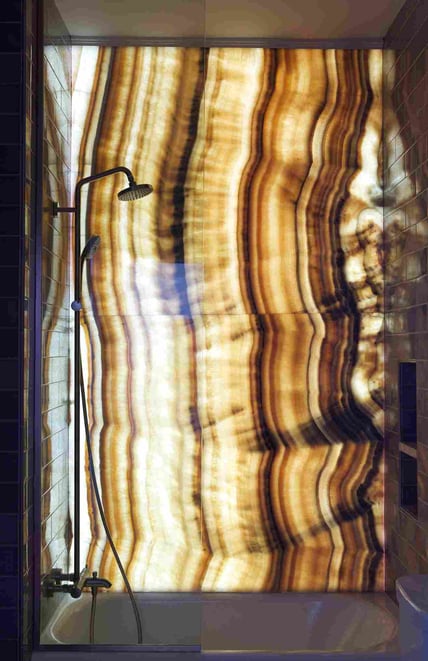 Stone accents compliment the wood inserts. From the burnished kitchen floors to the marble countertops, marble and tile kitchen backsplashes, bathroom vanity countertops, and pervasive stone/marble tiling throughout the master bath, outdoor elements permeate the interior of this home.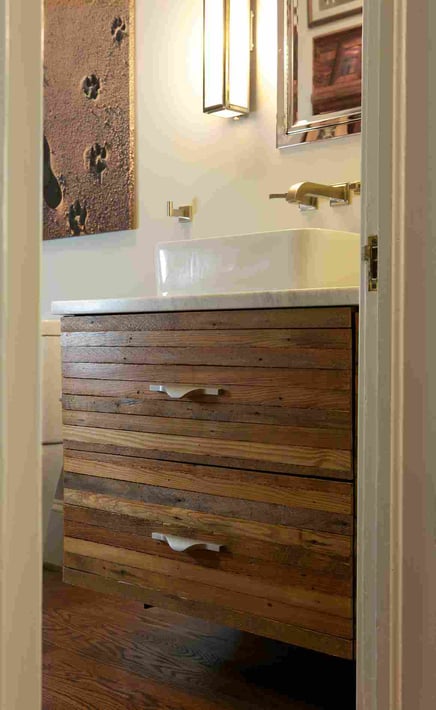 Even the color scheme pays homage to nature's colors with its variegated wood tones, soft greys, deep siennas, serene tans, and vivifying greens. No haven could be more perfect for a lover of nature than this Midtown home remodel in Atlanta, GA.