Home Remodeling Ideas from Atlanta's Beautiful Historic Homes
Nothing compares to an older home. Whether it's love at first sight or a deepening love established over time, you know that your heart has found home in your historic, Atlanta, GA, dwelling. Sure, it may need a bit of TLC, but you bought your home originally because you fell in love with its inherent beauty and potential. Today, we'll talk about how you can capitalize on that beauty during your home restoration in Atlanta, GA.
Revitalize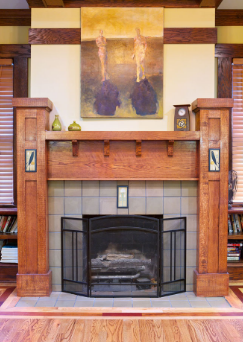 When you approach your historic home remodel, don't do so with the thought that everything needs to be replaced. Unless your pieces are irreparably worn or don't fit with your vision, try to revitalize what's already in place, be it trim work, cabinetry, banisters, or railings.
For example, let's take a look at this revitalized Arts & Crafts home fireplace. In this remodel, Copper Sky preserved the original mantelpiece, refinishing its wood and inlaying it with tile insets that match the original design. This detailed trim work is spectacularly matched with a complimentary grey tile interior, which is framed on the floor with new inlaid wood that separates the fireplace from the wood flooring. This inlaid wood features hues that alternate between rich reds and pieces that match and draw the eye back to the original hearth piece, the center of our interest.
Refit
While it's wonderful to revitalize historic home features, sometimes full restoration in Atlanta means recognizing that some pieces are past saving. In this instance, consider refitting originals with restoration hardware, modern reproductions that fit your home's period.
Take, for example, this foyer snapshot. Just like the overall tenor of its Symrna home, we immediately see multiple layers of detail and points of interest to capture our attention. While some of these eye-catching pieces, like the door, are original to the home, many of them are refits.
For instance, the panes of glass surrounding the door and centered within it are stylistically reminiscent of the home's original design. So too the unique pendant lighting in the room's center creates a point of interest both on its own terms and because it highlights the home's high ceilings and wood beams that compositionally lead us again to the door and entryway. Even though some of these are not original features, they enhance our experience of original design elements rather than detracting from them. The same could be said of this home's keyed entryway and multiple outside railings.
Re-present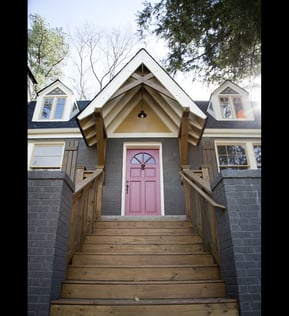 Finally, if you want to add on to your original home's structure with a deck, porch, or other addition, make sure you're re-presenting what's already there.
In this remodeled Cape Cod style house, Copper Sky preserved and accentuated the existing central gable by echoing them with two parallel gables to its left and right. Bright paint on the door and above the door, (echoed in the triangular spaces above the windows), lends interest to the home's unique structural elements.
Even the steps on the deck leading to the door feature railings made of the same wood that support the gable, providing these parallel lines of vision with parallel styles. Overall, the effect welcomes us in to the home's interior, where we will find more structural additions that re-present the home's historic charm.
Closing Thoughts
When you approach your historic home remodel, remember what it is that made you fall in love with your home in the first place. Remember, in other words, to work with its character, not against it. For more ideas on how to revitalize, refit, and re-present your historic home, view these 4 kitchen remodels in historic Atlanta homes.