15 Features to Preserve in a Historic Home
Historic home remodels are like treasure hunts for adults: you never know what you'll find. Sometimes, you unearth family portraits from the early 1900s and a bunch of old newspapers used as insulation. And other times, you uncover exquisite raw materials that would cost a small fortune to replicate. The trick is to know what to preserve and what can go, and if you haven't remodeled a historic home before, you'll want a guide by your side to help you assess the value of each discovery.
Homeowners in the Atlanta area choose older homes for a reason. There is something captivating, charming, enduring, and almost mystical about great design elements from years gone by. Just as you'd approach an archaeological dig with care, so too you'll want to respectfully consider each feature you find in your historic home remodel.
#1 Hardwood Floors
Hardwood flooring was one of the most frequently installed original features in historic homes, yet often these floors are covered over with carpet because over the years they became weathered and looked old. When you remove your carpet, you'll likely see that the wood has been additionally marred by staples.
Yet most hardwood floors in historic homes are still in surprisingly good shape. With a little sanding and refinishing, original hardwood flooring can far outshine replacement floors or new carpeting. Since hardwood floors are one of the more expensive options on the market today, uncovering a hardwood floor in your home truly is like finding buried treasure.
#2 Trim Work and Wood Built-Ins
The same can be said of any other trim work and custom carpentry built-ins. The quality of materials and craftsmanship invested in original wood features is extremely rare to find in modern homes. The temptation here would be to tear out old carpentry because the wood may be splitting or chipped in places, but an expert in custom carpentry can often restore these pieces to their original grandeur.
#3 Front Doors
Have you noticed that many owners of new homes will either paint their front doors in statement colors or else hunt for a historic front door to add interest? Original doors add immense character to a home and are highly coveted, so if you have one, keep it! Here again, the custom carpentry and original designs of older doors are extremely difficult to find in newer makes. There's no need to be concerned about losing heat through old doors, as making them energy efficient is relatively easy.
#4 Original Hardware
Doorknobs and drawer pulls are also unique features that you won't find in any mainstream hardware stores. Consider cleaning tarnished hardware rather than replacing it. The good news is that refurbishing original hardware is easier than you might think.
#5 Exposed Brick
As a general rule, any quality raw material should be preserved. Especially in a home design era where texture is king, raw materials like exposed brick have once again gained popularity as a key feature in an industrial and minimalist aesthetic.
If your home already has exposed brick surfaces, consider redoing mortar work and making the surface a centerpiece rather than covering it over. It's even ok to paint over brick if you're certain you want to alter its color, but don't tear it out, because texture adds interest. Read More: Show Off Your Home's History with Exposed Finishes
#6 Butler's Pantries
While butler's pantries were originally used to store fine dish ware and to keep prep areas invisible, they've now become functional food pantry replacements and also stylish ways to exhibit original hardware, countertops, tile work, etc. In fact, butler's pantries are also the perfect places to store seasonal dishes and kitchen items that you may not use in your everyday life but that you don't want to have to go hunting through taped up boxes in the basement to find when the occasion calls for them.
#7 Quirky Angles
Finally, many historic homes are built with quirky angles that create unusual niches. While these angles may challenge your creativity, they're a great way to highlight the value of your historic home, because such angles could only have been made by hand rather than by "cookie cutter" assembly. Invite your designer in to discuss how to capitalize on these rather than trying to hide or undo them. You may just end up with a completely original, functional, and eye-catching design feature!
#8 French Doors on the Home's Inside
Have you noticed that many designers are now installing French doors in home interiors to preserve an open layout while zoning spaces? If your home has these already, as many older Arts and Crafts homes do, keep them. Original French doors are another place where you may find some unique door knob hardware to refurbish and show off.
#9 Laundry Chutes
Before there were clothes hampers and laundry rooms on upper floors, homeowners (especially more affluent ones) used laundry chutes to keep dirty clothes and linens out of sight. That's still a brilliant idea today—especially if you live in an older home where having a laundry room on the upper levels isn't practical. Instead of gathering up all your laundry and hauling it to the basement, you can use the laundry chute in your older home to simply drop dirty laundry to the basement. Kids love laundry chutes, too! They can send secret messages from upstairs to the basement without anyone knowing about it!
#10 Pocket Shutters
Sometimes called "embrasured shutters", pocket shutters fold into areas (pockets) on either side of a window built into the window jamb in the interior of the house when not in use. This leaves the window unobscured and lets plenty of light in. Older brick homes (using real brick and not veneer) tended to have thicker walls. Having the windows flush with the exterior wall meant having extra space inside. That space can make a cozy window seat for reading or looking outside.
#11 Transom Windows
While transom windows above doorways are a definite throwback to earlier times, they are also great features for letting natural light spill through into hallways.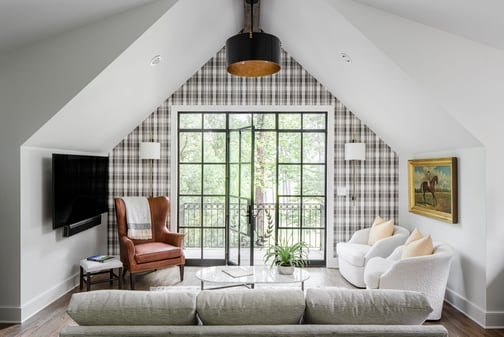 Homeowners can still protect their privacy by having a door closed, but the transom window still let's light filter into what otherwise might be a dim or dark space. That's a particularly nice feature for older homes that can have a tendency to be a bit darker than modern homes.
#12 Dutch Doors
These iconic "split" doors have their origin (not surprisingly) in Holland in the 17th Century. When Dutch immigrants came to America, they brought the design with them and they became a staple in the New World. Originally intended to keep animals out (and children in) they became popular even in non-agrarian settings. If you have toddlers, they are still a great way to let fresh air in through the top door, while keeping little ones inside. And some people simply love their unique, friendly design.
#13 Dumbwaiters
The history of dumbwaiters dates back to 1887 in the United States when a New York City inventor by the name of George Cannon filed a patent for the mechanical dumbwaiter. In older homes, the dumbwaiter generally originated in the kitchen (or in a pantry) and allowed the passing of food (or other items) to upper levels of the home without having to carry a tray upstairs.
It's still very practical today if you want to have a late-night snack in the bedroom without trying to navigate multiple flights of stairs while balancing a tray. Of course, you'll want to make sure your dumbwaiter is restored to perfect working order, so you don't end up with a pile of broken dishes in the kitchen!
#14 Wall Niches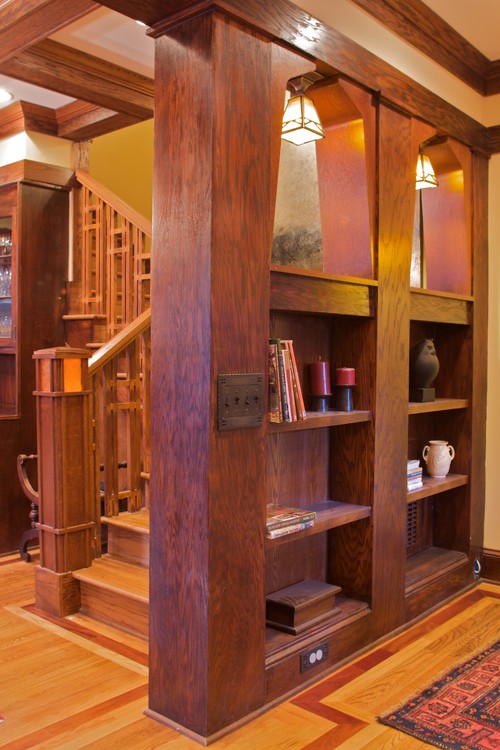 If you don't know what to do with your wall niche, think of it as a decorating challenge where you can have fun getting creative! Wall niches are great spaces for housing telephones, paintings, vases, or even miniature gardens.
#15 Ceiling Medallions
One thing that makes ceiling medallions so special is that they represent a love of design and art that transcends the utilitarian. While they don't serve any "practical" purpose- they are beautiful artistic expressions that dramatically enhance the look of a home. These ceiling decorations are a reminder of the days when fine American homes still embraced classic European styles. For more on statement ceilings- visit our blog.