Mid-Century Modern Design in Atlanta
There are styles and trends that come and go. Some styles, however, have enduring appeal and enjoy repeated revivals. Mid-century modern design is one of those styles. But what exactly is mid-century modern design and is it right for your Atlanta home?
Defining mid-century modern is a bit of a challenge. If you ask four people, you're likely to get five different responses. Part of that is because the style has been around so long that it's evolved over time. But rather than worrying about creating the perfect definition of mid-century modern, let's look at a few key elements.
Basics of Mid-Century Modern Design
One key element in mid-century modern involves using new materials and designs with traditional designs. Some see it as an extension of the Bauhaus style of design in which seemingly disparate materials and elements are brought together to create a unified style. It's also sometimes defined as a marrying of the past and the future. The warmth and familiarity of the past exist in harmony with a forward (futuristic) style. It's a unique combination of cozy and fresh.
For a visual image of this combination, check out a few of the beautiful historic homes in Atlanta we have been privileged to renovate.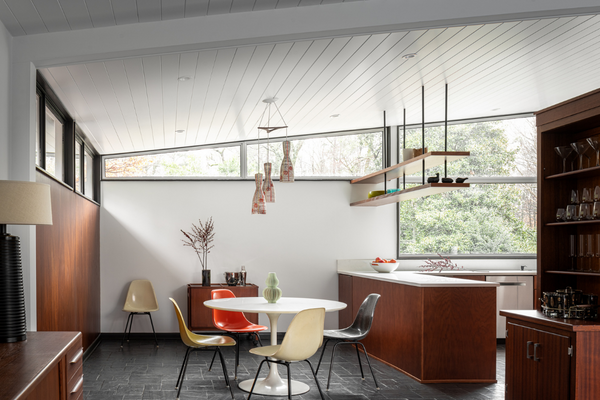 It's not just the finishes and materials that define this style, however. Floor plans tend to have an organic flow that encompasses multipurpose spaces. The result is that one room flows seamlessly into the next. Here are some examples of what we're talking about with regard to open, flowing floor plans (even though the styles may vary).

Natural light is important in this style of design as well. Small windows give way to larger windows—and sometimes even floor-to-ceiling windows and doors that let in lots of natural light—and blur the lines between indoor and outdoor living.
Detailed Craftsmanship
Part of what makes this style so popular is the combination of design and detailed craftsmanship. Here's a post that looks at how we approach craftsmanship and attention to detail when working with wood, iron, or glasswork. The effect is a finished product that looks new and "feels" old (solid, enduring, timeless).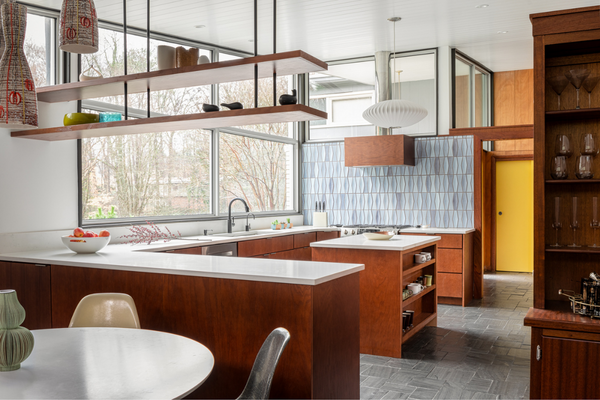 Design Matters
If you're trying to create a particular style with the remodeling of your Atlanta home, design matters. Simple adding period-specific elements or furnishings to your home won't give you the look and feel you want. You'll want to work with a remodeler who understands the structural requirements of your project. That's one of the advantages of working with a design-build remodeling company. The designers work hand-in-glove with the builders to ensure that everything works together. In other words, the designer won't design something that the builders can't complete. They are in sync and work together to get things right the first time. That results in a process that runs more smoothly, finishes on schedule, and comes in on budget.

Is mid-century modern right for you? One great thing about owning an older home in the Atlanta area is that you don't have to be locked into one particular style. We invite you to take a look at some of the great older homes we've worked on in the area. Click here to see examples of Arts & Craft, Contemporary, Classic, Tudor, and other styles of homes. The key is deciding on the style that fits your lifestyle and your personal sense of design.
---
For a more in-depth look into this Mid-Century Modern project, watch the video below...