Bringing Color into Your Atlanta Kitchen Remodel: Design 101
It's time to start dreaming in technicolor! White kitchens have had their day, but more and more our clients are requesting pops of color in their homes. If you're ready to create a custom Atlanta kitchen that vibrates with personality and stands the test of time, we're ready to lend our insight.
Our Design Expertise Gives Us the Insight You Need to Get Your Kitchen Details Right
We want you to have all of the information you need to curate the perfect look. Our extensive design experience equips us to guide buyers to their perfect fit when designing their Atlanta renovations. Getting familiar with materials and options gives you the power you need to plan.
Knobs vs. Pulls
Copper Sky Design + Remodel's design team has plenty to say about selecting cabinet hardware. The shapes and finishes you choose have a real impact on the overall vibe and the aesthetic of your room. Our Instagram Reels provide some great examples of kitchen cabinet hardware options. Check out the muted greens, grays, and blues and the way different metal tones change the vibe.
Want to see this in action? Check out our Instagram Reel on knobs vs. pull with various finishes.
Tile for the Perfect Palette
Tile is a fantastic way to bring color into your kitchen remodel. Glass, ceramic, encaustic cement, terrazzo, and more; check out our favorite examples of tile work on Instagram that bring a little something extra to your kitchen walls.
Let in the Natural Light
Your doors and windows are not only useful for bringing in natural light, but also provide an opportunity to enhance your overall design aesthetic. Add vintage charm with mullions or create an open, airy space with a modern glass door. You can also add color with a stained-glass window or door panel. A pass-through window not only provides an easy way to connect the kitchen with your outside space, but it will typically also maximize the amount of natural light being let in.
Check out this light-filled kitchen on Instagram!
Examples of Colorful Kitchens for Your Epic Atlanta Remodel
This project is a perfect example of the awe and elegance that colorful kitchen cabinets can provide. Check out how this kitchen comes to life - from the initial renderings to the finished space. This kitchen, featuring navy cabinets standing guard around beautiful white cabinets, is absolutely stunning.
Navy Reporting for Duty
Navy isn't the only shade to consider for your modern blue kitchen cabinets. We've compiled some of our favorite shades, from soft to striking. Note the color, hardware, decor, and tile pairings that influence the overall vibe.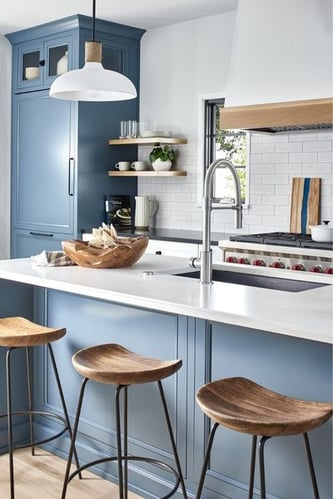 A Green Gem
We can't talk about perfectly executing color in your kitchen without a special mention of one of favorite projects, this luxe green kitchen with brass plumbing, hardware, and a library ladder.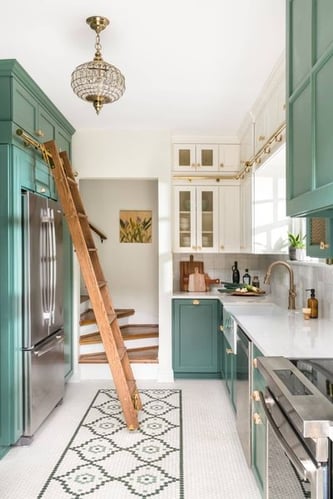 Creating a Color Scheme for Your Kitchen Remodel
Your kitchen needs a cohesive color story. There are endless options to inject color into your kitchen and many different levels of commitment to color, so you can dabble or dive all the way in. Here are some of our favorite tips for creating a timeless and vibrant kitchen.
Make a Mood Board
Test your design elements next to each other by creating a mood board. Include your color palette, metal finishes, lighting and plumbing fixtures, wood tones, and appliance colors. If you aren't sure about your exact selections yet, gather the examples that best represent your vision.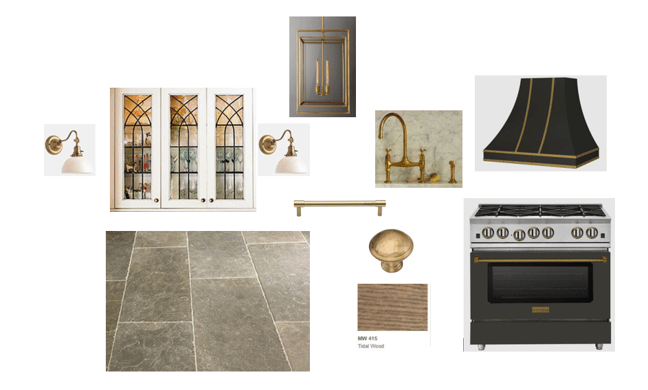 Try Two-Toned Cabinets
Two-toned cabinets continue to trend into 2023. Using two cabinet colors in your kitchen allows you to delineate special spaces or provides accents that provide bold colors next to more neutral options. This means you can include colorful options without committing to a potentially polarizing look.
Dial-Up the Color Saturation in Monochrome
We love the subtle texture that changing the intensity of the same hue can create. Using the same color at reduced and increased saturation provides a subtle difference that adds depth and interest to any space that employs this tactic.
Invite Color into Your Tile
Many of our favorite tile selections offer options in just about any color you could desire. From glass to porcelain, encaustic cement to natural stone, tile is a fantastic opportunity to include color in your kitchen vision while staying classic.
Colors of the Year for 2023
Many of the shades touted as colors of the year for 2023 are excellent options for your kitchen renovation color palette. A few nods to neutral are great for pairing, but most colors this year are deep, rich greens or pink-infused warmer hues. Here are the winners of the 2023 season, according to industry experts:
Behr: Blank Canvas

Benjamin Moore: Raspberry Blush

Better Homes and Gardens: Canyon Ridge

Dutch Boy: Rustic Greige

Dunn Edwards: Terra Rosa

Glidden: Vining Ivy

Krylon: Spanish Moss

Pantone: Viva Magenta

Sherwin Williams: Redend Point
Copper Sky's Expert Eye Creates Beautiful Results in Atlanta
Our artisan team lovingly elevates your space to exceed your vision. We believe your home deserves respect and expertise in order to look its best today, no matter when it was built. Learn more about why Copper Sky is the best choice for your Atlanta home renovation.