Perhaps even more than many of our other renovations, this basement remodel in Virginia-Highlands involved a complete transformation. Originally, the owners used this dug out crawl space with a thin, slab floor for rough storage and mechanicals. Our work involved excavating deeper to provide sufficient room for a higher ceiling. This meant supporting the main floor while digging underneath block walls and pouring a footer.
To lend more support to the new space of this 1920's Tudor home, we added steel beams and hid all new and existing mechanicals in the ceiling and soffit. Essentially, we created an entirely new space under the existing home, which required extreme care toward the Tudor's overall structural integrity.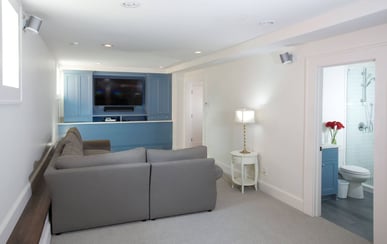 Whether for hosting guests or just gathering for family fun, the owners of this Virginia Highlands home now have a relaxing area to unwind. There's a dedicated play space for their three young children to recreate with their favorite toys, multiple closets for storage space when the area needs to be tidied up, and a TV and full wall of stunning blue built-in cabinetry that's in keeping with the Tudor aesthetic.
Nearby, a kitchenette equipped with ample counter space, a drink cooler, a microwave, a sink, and plenty of cabinetry (matched to the blue built-in of the entertainment area) makes mixing a cocktail or grabbing a snack easy. For added aesthetic elegance, glass cabinetry punctuates solid Shaker cabinetry to display champagne flutes and whiskey tumblers. Below, a white and gray marbled countertop gracefully transitions into a backsplash made of the same material. This continuous countertop is further accentuated by the undermount sink and minimalistic silver faucet.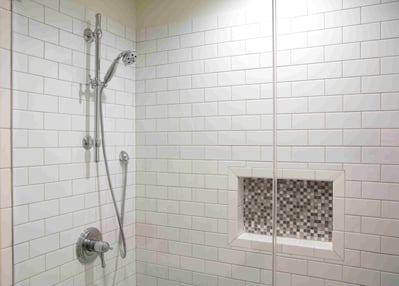 To complete the ideal entertainment space, a full bathroom was installed. The bathroom is equipped with a frameless glass shower with white subway tiles and an old-fashioned silver shower head and handle hardware that fits the home's Tudor styling. Like everything else in this basement, the bathroom has an open, airy, bright, and clean look--a far call from the dark, rough, and cramped crawlspace it once was!