Ceiling Design Ideas: 6 Ideas for Your Ceiling
Aside from height, there aren't many ceiling attributes most people discuss, simply because most ceilings generally fade into the background against other, more noticeable home features. Nevertheless, there are many beautiful ceiling design options available for your Atlanta home remodel, and we'd like to take you through a tour of six of our favorites.
1. Beams
Exposed beams, whether structurally integral or purely decorative, add a sense of height to your ceilings, an old-world charm, and a biophilic warmth. As shown below, aged-wood beams can also add visual cohesion when installed in rooms that feature restored hardwood floors. Plus, exposed finishes are a design trend that doesn't seem to be going away anytime soon.
If hardwood beams are too heavy or cost-prohibitive, check out these elegant faux beam solutions.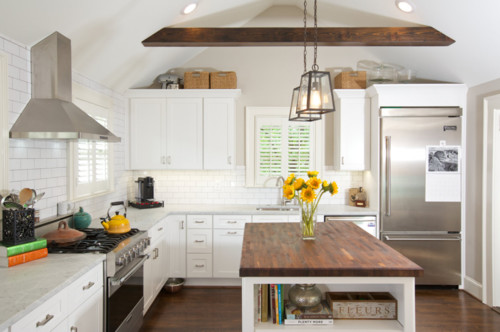 2. Molding
While not technically a ceiling feature, crown molding does a lot to elegantly highlight the transition between walls and ceilings. It works well in historic homes, especially in rooms where the angles of the walls are somewhat unique, as seen in this Midtown Atlanta, GA, home remodel.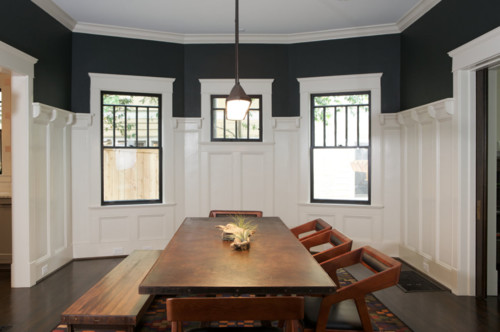 3. Coffered Ceilings
Coffered ceilings are most popular in craftsman-era homes, but they work well with many styles. If you have a tall ceiling, adding a coffered ceiling makes the space feel more intimate. If you have a lower ceiling, you can still add a coffered ceiling with shallow beams to add interest. If you want to define living spaces, this design is again a good choice; zoning distinctions are even more apparent when the color of the beams contrasts with the rest of the ceiling.
4. Partially Lowered
Partially lowering a ceiling may sometimes be a way to hide duct work, but it can also be a fascinating and subtle design technique to delineate spaces or make certain areas cozier, as with this kitchen seating alcove.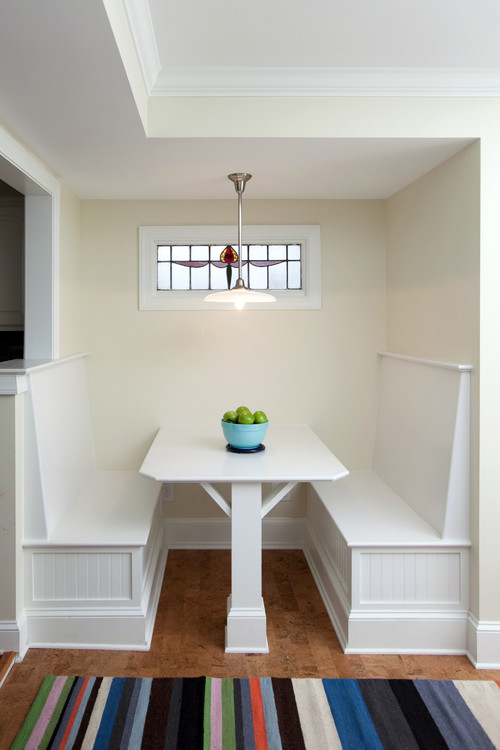 5. Colors
While most home owners opt for white or neutral ceilings, vibrant splashes of color that extend over both walls and ceiling can dynamically freshen smaller spaces such as children's bedrooms and gabled alcoves.
6. Statement Lights
Likewise, statement lights introduce interest into more modern homes where a structural addition such as a beam, coffered ceiling, crown-molding, etc. may not be the right stylistic fit.
As seen in this home, statement lights also add depth and height to a room through their play of light and shadow. Be sure to keep these six statement ceiling design ideas in mind as you gather inspiration for your own home remodel!