An ADU Comes to Life for this Atlanta Home in Oakhurst
From entirely separate buildings to additions above garages to basements with separate entrances to primary home bump-outs, ADUs can take many shapes and can adapt to many purposes.
Several homeowners in the Atlanta, GA area are incorporating them into their home improvement and remodel plans. Take a look at this ADU in the Oakhurst neighborhood of Atlanta.
What is an ADU?
While most of us have heard the term "ADU," it's still fresh enough to merit a definition. ADU stands for "accessory dwelling unit," which refers to any secondary living space that's distinct from the home's main living quarters. Typically, ADUs are designed as secondary living spaces that may be used as guest houses or else as sources of supplemental income when rented through Airbnb or by adult children, in-laws, friends, etc.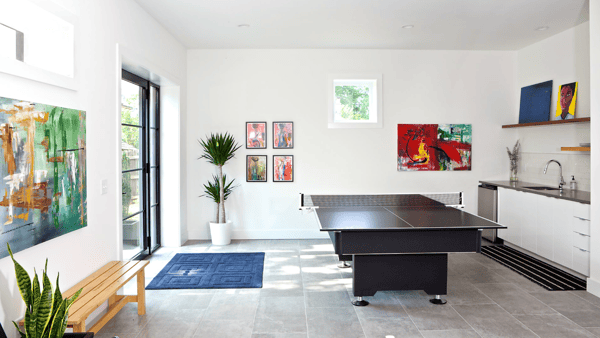 Given their adaptable purposes, they've become increasingly popular in urban areas where space is limited and living expenses tend to be higher. (You can read more about the benefits of accessory dwelling units here.) But as this Oakhurst home's ADU demonstrates, their smaller footprints can still feel spacious and charming. Let's take a look.
A Sleek Exterior
A broad walkway ushers us into this minimalistic ADU whose pleasingly simple footprint and sleek, understated exterior communicate, even from the outside, that we're entering a clutter-free zone where our minds and bodies can relax. The almost all-glass door, bracketed by adjacent, full-length window panels, and the clerestory windows afford plenty of light to filter into the main living quarters while the curtained door down the walkway provides separate access to the ADU's private rooms.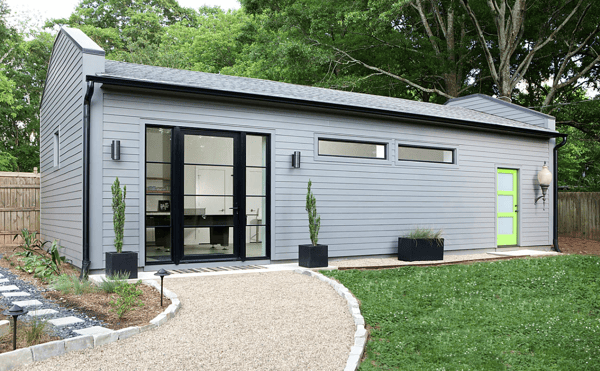 A Relaxing Interior
Once inside, we enter into an open, rectangular room that's a perfect miniature of the home's exterior footprint. With a spacious living area and a TV on one side and a ping-pong table with an adjacent single-wall kitchen on the other, this mini home manages to feel open and able to accommodate fun while not compromising on the essentials. The minimalist, rectangular floor plan is echoed in miniature in the large, slate grey tiling that unites the kitchen area and the living area, making both feel larger and more open while emphasizing the cohesiveness of the overall design.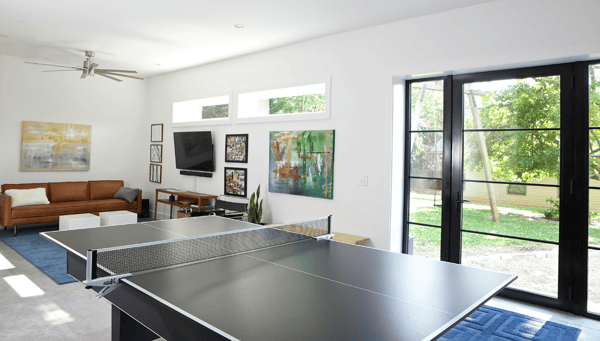 Designing Your ADU
Even if you've never considered creating an ADU before, the idea is worth entertaining as an increasingly popular way to generate extra income or simply to house guests comfortably. There are hundreds of ways to design an ADU perfect for your Atlanta home improvement and remodel plans, and we look forward to helping you find the right fit.
[Read More: Does Your Atlanta Home Need an ADU?]