Best Atlanta Neighborhoods to Invest in a Remodel
Creating the perfect Atlanta home hinges on two major factors: Location and style. The home you choose needs to be in the right place and its features and style should fit your lifestyle so that you really feel at home.
Investing in Atlanta
Savvy Atlanta homeowners want to know if a remodel of their existing home makes financial sense. That's one reason we encourage potential clients to download the free 2020 Home Remodeling Cost Report.
Not only does this report give you an idea of what you can expect to spend on a project, but it also provides you with figures about what you can expect to recoup your investment. It's not just the project, however, that impacts your investment. Where you live makes a big difference as well. So what are the best Atlanta neighborhoods to invest in a remodel?
The Atlanta area has quite a number of charming neighborhoods with great existing homes that exude character. As design/build remodelers with a passion for remodeling and restoring older homes, we pay a lot of attention to strong, traditional design elements. We have a particular affinity for Craftsman and Victorian-era styles and have since had the pleasure of renovating several houses in Atlanta's historic neighborhoods. Frankly, part of our reason for existence is that we believe old houses are worth saving!
The good news is that there is an abundance of old homes in the greater Atlanta area that are in need of saving. That's why we are actively involved in the following Atlanta neighborhoods.
Avondale
Estates

Chastain Park

Druid
Hills

Dunwoody

Kirkwood

Paces
Ferry

Tucker

Vinings

Virginia
Highlands

Winnona
Park
Rather than just tell you where we work, we thought it might be helpful to see some specific examples of some of the work we've done in these neighborhoods
Renovations in Decatur
Here's a whole home remodeling project we completed in Decatur. This was a true "inside-and-out" project. And although it was a major project that encompassed the whole house, you'll be able to see the attention to detail in everything from windows to flooring to trim work that captures the character and spirit of this fine old home. Click here for images that show off those details.
[Read More: Neighborhood Spotlight: Decatur]
Renovations in Lake Claire
Lake Claire is another great neighborhood we've enjoyed working in. This award-winning remodeling project brought new life to a home with classic beauty. And while it's all-new on the inside, the design respects and reflects the existing character of the house. Click here for a closer look at the details.
Renovations in Virginia Highlands
The update on this Virginia Highlands home is a perfect example of how we marry fresh new design with classic style. You can catch a glimpse of how the sleek, modern kitchen blends into the rest of the home (not the arched doorway from the kitchen to the dining room).
[Read More: Neighborhood Spotlight: Virginia Highlands]
Renovations in Morningside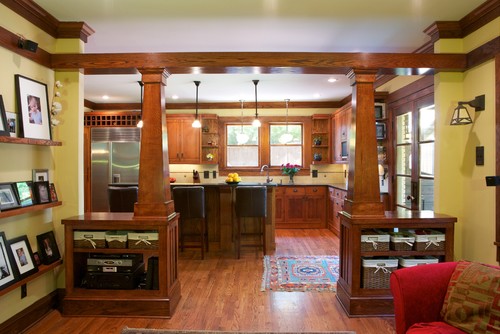 This beautiful Arts & Crafts home in Morningside gives you a whole different feel. We helped the owner take advantage of a lot of the natural wood features in existence throughout the house. The home retains its classic "lived-in" appeal while feeling fresh, updated, comfortable, and convenient.
Click here to see how this theme resounds through the whole home.
Renovations in Ansley Park
The owners of this Ansley Park home obviously felt the neighborhood they live in merited a whole-home remodel of their Craftsman home. The result is a great example of bringing fresh, new design ideas and materials into an existing older home in a way that respects and highlights the original design while giving the whole home new life and comfort.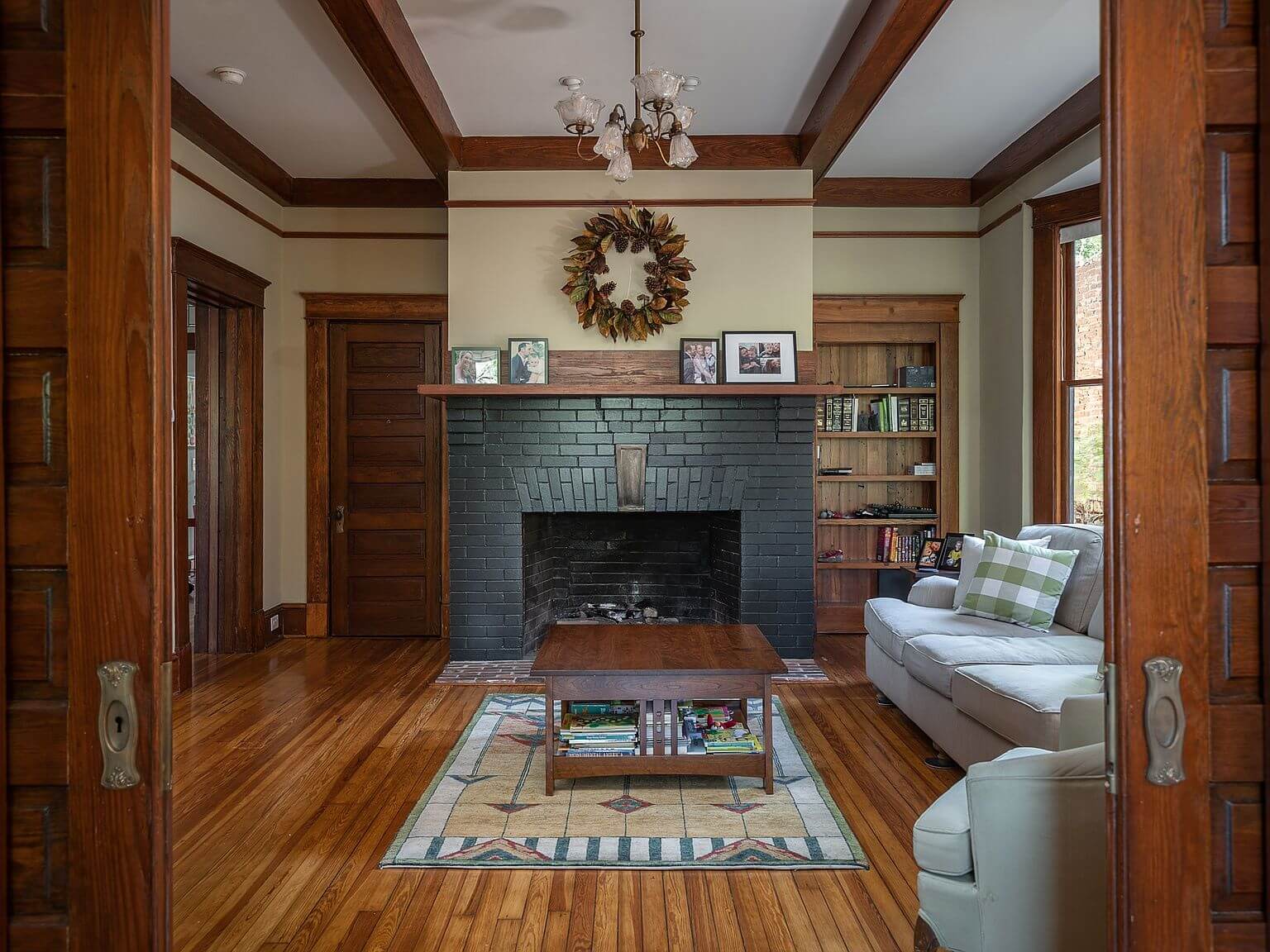 The project included a large 2-story addition with a stunning gourmet kitchen (pictured here) and a master bath. The family also added all new high-efficiency systems including HVAC, refinished millwork, refurbished windows, new heart pine flooring, and new stained-glass door glass and transoms to match the current 120-year-old glass. The exterior received new pine shake siding, bi-fold steel doors on the front porch, steel French doors at the back porch, and a rooftop deck over the garage overlooking the downtown skyline.
You'll want to click here to take a closer look at specific features such as the beautiful bi-fold steel doors on the front porch that let lots of natural light into the house; and the stunning stained glass door and transoms in the entryway (that match the current 120-year-old glass); and the exquisite heart pine flooring that matches the existing floors.
Renovations in Oakhurst
The Oakhurst neighborhood is another place where homeowners obviously feel that investing in their existing homes makes sense. This modern industrial Accessory Dwelling Unit (You can read more about ADUs here) is the perfect mix of style and entertainment. Modern fixtures on the exterior flow into the interior of this ADU with matte black potted plants, door frame, outdoor lighting, gutters, and windows.
Having a separate building enabled the homeowners to add a tasteful, modern flair to their property. You'll notice an abundance of glass and gray siding. Inside the space offers an entertainment center with a hanging TV and sound system as well as a ping pong table and a small kitchen for drinks and snacks. The inside incorporates modern elements that flow throughout this ADU—including the art on the walls and the stainless-steel fixtures of the ceiling fan and faucet.
Renovations in Atlanta
Atlanta, proper is a great place to remodel and restore a home. This transitional master bathroom in Atlanta is a great example of how homeowners here are committed to preserving and improving existing neighborhoods.
This particular bathroom features a dual vanity with engineered Quartz countertops, custom mirrors, and a subway tile walk-in shower with glass door. The dark wood with copper hardware and charcoal quartz countertop make a nice contrast to the lighter-colored subway tile in the walk-in shower that features an oversized, adjustable spray unit. The family went in a totally different direction with their guest bathroom and opted for bright floral wallpaper, classic wall sconces, and custom grey vanity.
Whether you currently own a home in one of these great Atlanta neighborhoods or are considering a property with plenty of potential—we can help you turn a good home with "great bones" into your dream home.
Tips for Buying and Renovating a Home in Your Favorite Atlanta Neighborhood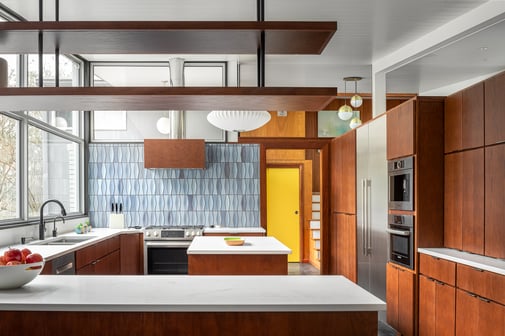 Once you've identified the Atlanta neighborhood that you want, you'll still want to find the right home. What kind of home is right for you? That, of course, depends on your personal tastes and your lifestyle. Let's take a closer look at those things.
Personal Taste
You'll want a home with a style that matches your inclinations. For some homeowners, that might be a modern style. Others may be drawn to more traditional designs. At Copper Sky, we have a particular affinity for Craftsman, Mid-Century Modern, and Victorian-era styles homes (Here's an example of a Mid-Century Modern home that we recently remodeled). Even if you love older homes, that doesn't necessarily mean you have to settle for an interior that feels old or uncomfortable. We specialize in respectfully preserving timeless elements in older homes that capture their character—without sacrificing your comfort.
Lifestyle
Beyond how your home looks, you'll also want to make sure it fits your lifestyle—the way you entertain, relax, and even work at home. For instance, if you enjoy casual entertainment, you'll want to find a house where you can entertain comfortably. If you happen to be a gourmet cook (or want to be), you'll want a kitchen that allows you to pursue that passion. You'll want to think about how your family will use common spaces such as the dining room, the family room, and other spaces. Here's a helpful post that explores how to bring your unique personality into your home. Don't be overly concerned if you don't find a perfect match. However, you'll want to consider if a home you're looking for can be modified to meet your needs.
When it comes to house hunting, you don't always need to look for a finished product. But you do need to look for potential. We've assembled four tips to help you find and make the best investment for your home remodel in Atlanta, GA.
Looking for Location
There's nothing wrong with purchasing an outmoded home in an up-and-coming neighborhood with plans to remodel it. In fact, these investments often pay the highest dividends. You should, however, thoroughly vet your neighborhood before buying so that you know your investment is sound.
Before you buy, observe and look up statistics on your location. Are sales rates rising? Are houses on the market for increasingly shorter time periods? Are young families moving in? Are houses selling for more than their owners originally paid? Is there a small or nonexistent percentage of home listings that expire without selling? If you answer yes to the questions above, you're likely making a sound investment.
To learn more about our approach to remodeling download our eBook.
Ensuring Sound Structure
Now that you know what to look for in the overall neighborhood, let's discuss what to look for in individual houses. When touring a home with an eye toward renovation, it's important to not get hung up on outmoded superficials you can easily alter, but it's equally important to not be naively enthusiastic before ensuring a sound structure.
Be sure to check for a solid foundation by examining exterior finishes for cracks and floors for sagging. Check also for water damage, mold, and asbestos. Look inside kitchen and bathroom cabinets as well as basements to visually check for potential plumbing problems or exposed electrical issues.
Next, ask the seller/realtor about when shingles, windows, appliances, HVAC systems, etc. were last updated. Buying an older home inevitably entails surprises, some of which, like gorgeous wood floors covered by carpet, can be gold mines. But you'll want to ask as much as possible about the history of the house to minimize unpleasant surprises.
Planning Your Rough Draft Renovation and Checking City Codes
Before you buy, mentally walk through the changes you'd like to make. Will you want to add an outside deck? Do you plan to build a ground-floor or second-story addition to make the home's square footage workable for your family? Make a mental checklist and do some research on your city's codes and zoning laws to ensure they're realistic.
Consulting Your Contractor
If you've vetted the neighborhood and house as thoroughly as possible and are ready to sign the dotted line, it's time to bring your contractor in for one final approval for your home remodel in Atlanta.
Your contractor can tell you whether the changes you want to make are structurally realistic. For instance, if you plan to tear down walls to introduce an open floor plan, you'll want to ask your contractor whether your plans architecturally work with the home's load-bearing walls. Check all structural and design changes with your contractor before proceeding.
The keys to finding the right Atlanta home for your family comes back to choosing a neighborhood you love and then choosing a home that fits your family's lifestyle. And if the home you select isn't quite right, we'd be delighted to help you turn it into the home of your dreams!
This post is adapted and updated from two original posts on the best Atlanta neighborhoods for remodeling and on tips for buying and renovating in Atlanta
Updated from the original Apr 29, 2019 post