OBIE Awards 2023
There's a certain magic when creativity meets recognition. Peer and public recognition for hard work can be rewarding, and it's important to celebrate those victories. In late October, that magic was palpable for the Copper Sky Design + Remodel team at the Greater Atlanta Homebuilders Association OBIE Awards ceremony. A celebration that stretches back to 1980, the OBIEs are more than just awards; they're a testament to dedication, innovation, and the pursuit of perfection in homebuilding and remodeling.
The OBIE Awards have been the gold standard for home construction excellence in the Atlanta area for 43 years. With roots spanning over four decades, these awards now feature a myriad of categories celebrating the creme de la creme of building, remodeling, marketing, and personal achievements. Named after the obelisk shape of the award, the OBIEs truly epitomize the zenith of new home construction and design. Presented every fall by the Sales and Marketing Council of the HBA, those who clinch an OBIE distinguish themselves as the unparalleled best in the industry until it's time to submit your best work for consideration again next year.
Copper Sky's Glittering Triumph at the OBIE Awards: A Showcase of Excellence
A heartfelt thanks goes to architect, Cody Patton and lead designer, Jaime Dupes. Their collaborative genius resulted in a sublime custom bathroom. This design marvel, executed to perfection by Dallas Hoade, Director of Production, and Chris Manning, Lead Carpenter, features a luxurious wet room, soaker tub, opulent built-in storage cabinets, and intricate tile work that truly captures the essence of elegance.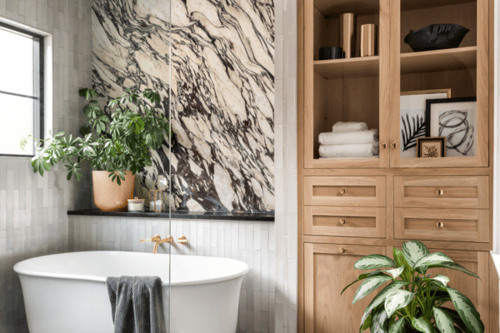 This serene kitchen was reimagined by Jaime Dupes, whose unparalleled vision converged function with style. Classic colors of white and wood, juxtaposed with clean counters and brass hardware, offer a timeless aesthetic. The execution, under the watchful eyes of Dallas Hoade and Chris Manning, stands as a testament to what Copper Sky can achieve.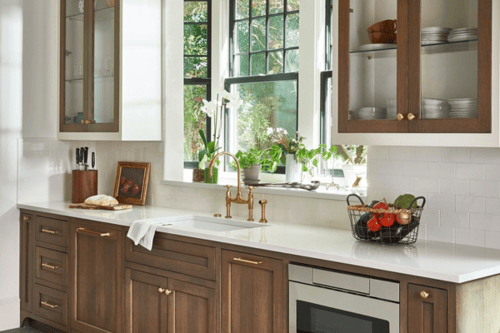 GOLD/1st Place: Whole House Renovation
This project was designer Micaela Quinton's brainchild. Her unwavering dedication and deep collaboration with homeowners resulted in a home transformation that oozes personality and Southern charm - from the stunning pink fireplace to the audacious blue molding. The impeccable realization of every design facet by Evan Parker, Project Manager, is nothing short of breathtaking.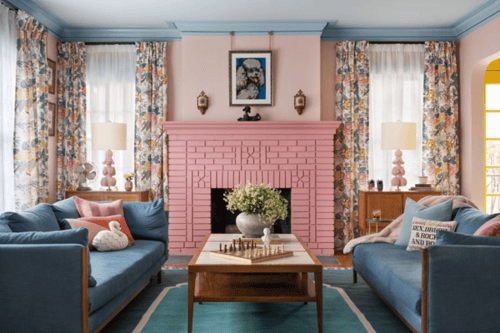 Once again, the indomitable duo of Cody Patton and Jaime Dupes have worked their magic, creating a second-story addition that rejuvenates an old brick home. The detailed rounded dormer "eyebrow" windows and meticulous exterior detailing transform the abode entirely. With Dallas Hoade and Chris Manning leading the charge during construction, the home now emanates an updated aura while paying homage to its roots.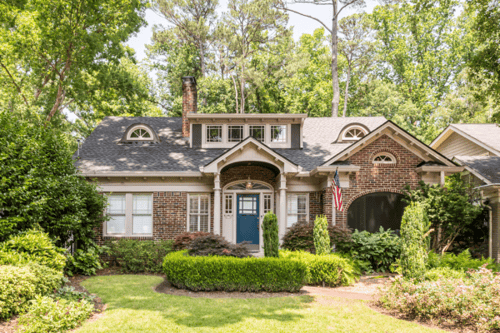 Turning the impossible into a masterpiece, the conversion of an erstwhile unusable crawlspace into a tranquil sanctuary stands as a hallmark of Copper Sky Design + Remodel's innovation. Architect Cody Patton, along with the relentless efforts of Dallas Hoade and Chris Manning, manifested this design wonder, offering a serene retreat to the family to recreate and gather.
We hope you'll check out our presence on Instagram, YouTube, and Pinterest in the future for more award-winning fun, insight, and design inspiration.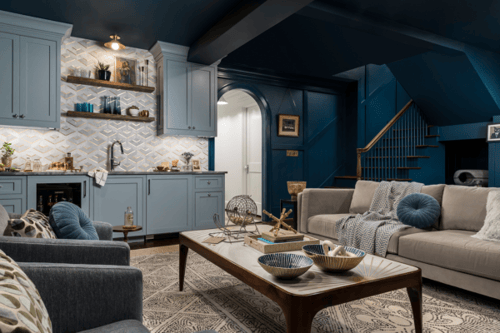 Breathing life into a 1920s bungalow, this renovation, conceived by Cody Patton and Jaime Dupes, captures the soul of an era gone by. A screened porch adorned with a fireplace and classic embellishments was impeccably realized by TJ Sharp, Project Manager, and Chris Manning, adding a touch of modern comfort to historical elegance.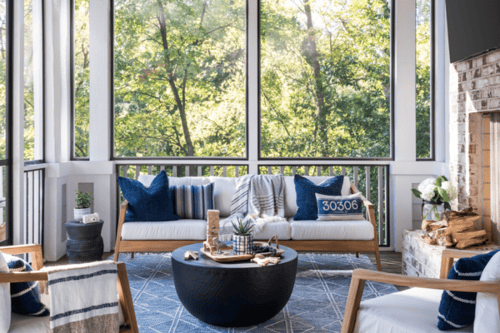 Learn about Copper Sky Design + Remodel, meet our entire team, and view the beautiful photography in our gallery.
Our Community Recognizes Our Staff's Excellence
Last but certainly not least, Copper Sky Design + Remodel didn't just shine in the homebuilding categories. We are immensely proud of our staff. Dallas Hoade clinched the title of Remodeler of the Year an honor that's been bestowed upon Copper Sky Design + Remodel for the sixth consecutive year. Betsy Buckley was crowned Marketing Director of the Year. These personal achievement awards further underscore Copper Sky Design + Remodel's commitment to excellence, both in craftsmanship and in our approach to client relations and industry representation.

Bring a Blue Ribbon Home
Celebrating these accolades, Copper Sky Design + Remodel is both humbled and invigorated. Our recognition at the OBIEs are a manifestation of our commitment to pushing boundaries and achieving design excellence. As we bask in the glow of these achievements, we invite you to dream big with us. If you're envisioning a space that resonates with style and function, Contact Copper Sky Design + Remodel today. Here's to many more years of design excellence, innovation, and transforming dreams into reality. Let's build the next award-winning space, tailored just for you.