5 Ways to Create a Home Office That Works for You
A couple of years ago, "working from home" might have been something that you only did on occasion. These days, for many homeowners, it's the norm. The pandemic shifted priorities, and millions of people are finding that remote work is can both be more productive and provide a better work/life balance. If you're one of these people, you may be finding yourself in need of a proper home office. Here are some tips to keep in mind as you start planning your new office space.
What Are Home Offices?
A home office is the perfect place to do work for your job, home business, or just to stay ahead of your household's bills and paperwork. Although many homeowners focus exclusively on building a space that is functional for them to work from home, for others, it's multi-purpose. By day, it offers a comfortable seat and desk space for you to do remote work. By night, it could be a place for the kids to do homework. It's important to know your home office goals so that you can create the most efficient space for you.
How to Create the Ideal Home Office
If you don't already have a home office, you might wish that you did. Even if you have a tiny corner of the kitchen that you use to pay bills, it may be time for an upgrade. These days, working from home isn't always a choice – so it's best to be prepared. Consider these home office ideas to help you get started:
1. Use a Spare Room
A spare room in your home is one of the most obvious options to create office space. If you have a spare room that becomes the clutter catcher for all the other rooms, it might be easy and sensible to turn it into a home office. Add lighting as needed and swap out the flooring if you need an upgrade. A desk, a chair, and a few office supplies might be all you need to start working.
2. Convert a Guest Bedroom
If you have a guest bedroom that you don't use very often, making it into an office isn't as difficult as it sounds. Start with a desk that folds flat against the wall or collapses into shelving or drawers for the guest room. It's a great idea for small bedrooms that might not be able to fit a normal desk. Other office guest room ideas include a Murphy bed, which folds into a cabinet on the wall. If you haven't seen Murphy beds in years, you should know that they come in modern styles, with the comfort that you'd expect from a regular mattress.
Want to see our amazing work? Check out our remodeling portfolio.
3. Turn Your Attic into a Home Office
If you have no choice but to build a home office in small spaces, you might consider finishing your attic. Attics are often too small to be used as a bedroom, but a home office has different requirements. As long as you have adequate lighting, electrical wiring to run your computer, and temperature regulation, you can make it work with style. Purchase a small desk and shelving unit to help you make use of space, and enjoy the peace and quiet away from the rest of the household.
4. Find Space in the Living Room
Not everyone has a spare room to dedicate to a home office, which is where a smaller home office in the living room may come in handy. Consider using curtains or room dividers to separate the room into two zones. Position your desk close to a window, if possible, to take advantage of natural light. A floating desk is a great way to make room while you work, then fold it against the wall when you are done.
Thinking about renovating your home to add more space for a home office? Read about the best Atlanta neighborhoods to invest in a remodel.
5. Build a Home Office Addition
If your home office plans exceed your home's ability to meet them, it may be time to consider a home addition. Home additions can be a great way to expand your use of the space without forcing you to look for a larger house. You can customize your plans to ensure you get the additional square footage and function you need.
Wondering how much a home addition costs in Atlanta? We've got the figures.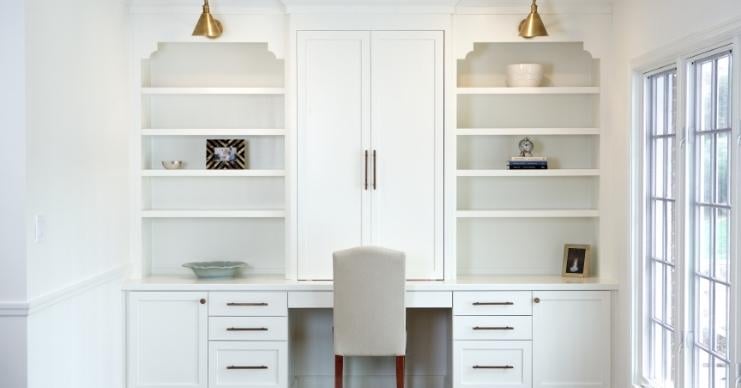 How to Set Up Your First Home Office
You can set up your home office layout in almost any way you like. Consider these important features, to ensure that you get the most from the space:
A natural flow from door to desk
Access to natural light
Desk height that allows you to sit up straight
A comfortable office chair that supports your back
Shelves and storage to keep your things in order
A clutter-free space to improve focus
If your office feels comfortable and practical, you'll be more productive.
How Do You Decorate Your Office?
Your home office ought to be a place that feels welcoming, not merely efficient. It's an opportunity to let your style show through. Creative home office ideas might include:
Colorful storage containers
Art or inspiration boards on the walls
Motivating messages
Plants for a hint of nature
A diffuser with comforting, pleasing scents
Aim for minimal decorations that truly express your personality, so that you have less clutter to manage.
How Do You Design Your Home Office?
Designing an effective home office calls for the skills of an expert remodeling company. At Copper Sky Design + Remodel, we can help you create the perfect layout for your home office, with everything you need. Contact us to talk about your project today.