Kitchen Designs Already Trending in 2018
[Click here to read our article on the Top Design Trends in 2019]
2018 is already proving to be a bold and experimental year when it comes to kitchen design trends. Perhaps the urge to push the envelope has arisen as a reaction to the minimalist style that has dominated the last decade, but whatever the reason, we're seeing lots of unapologetic colors, mixed textures, and novel design choices in kitchens.
Here's what's trending in Atlanta, GA, kitchens:
Painted Cabinets
White painted cabinets have been popular for a long time, but now, cabinets painted with deep, saturated tones are in favor. For those who want to maintain a brighter look, pastels and various hues of blue are also in.
Shaker Cabinets
Shaker cabinets are by no means a new trend—they've been a predominant cabinet style choice for a long time and are not likely to disappear in the new year, though their painted sheen gives them a fresh presentation.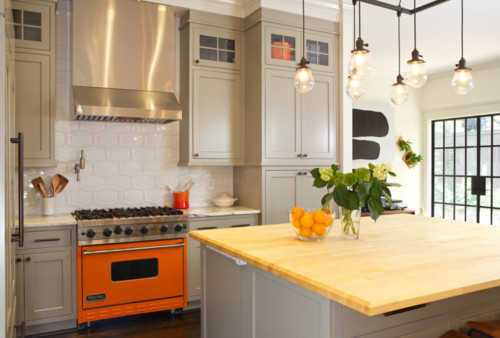 Furniture Islands
Furniture islands are replacing traditional islands; they are made from different materials than their surrounding kitchen cabinetry so that they act as statement centerpieces. Often, antique buffets or intentionally distressed wood tables are repurposed as islands.
Farmhouse Sinks and Built-in Sinks
Farmhouse sinks, also known as apron front sinks, are definitely on the rise because of their simple and rustic charm. They work well with almost any style, including cottage, traditional, and transitional. For those who find farmhouse sinks a bit too bulky, built-in sinks are an exciting alternative. Built-in sinks are made from the same material as the countertop, creating a seamless and sleek integration.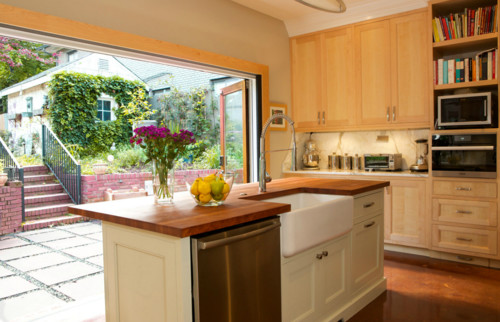 Banquet Seating
Perhaps because islands are being repurposed and aren't used as often for seating, banquet seating has come back in style. Banquet seating also provides a designated alternative to formal dining rooms.
Innovative Refrigerators and Freezers
Another rising trend is French-door style refrigerators, which have two doors that open separately from the center. This minimizes the space consumed when doors are open. In an attempt to customize appliances even more, refrigerators and freezers are now being designed separately to fit specific dimensions.
Metallic Fixtures and Black Accents
Metallic fixtures have become increasingly popular, whether that's copper and brass faucets and door hardware or black metal finishes with black accent trim that lends a sharp, modern feel.
What all of these 2018 kitchen design trends have in common is a desire to experiment with increased customization and confident verve.