How to Eliminate Stress in the Kitchen
Often, when homeowners think about a kitchen renovation, the first thing that comes to their minds is creating a fresh new look. That's part of the reason that you see so many gorgeous photos of remodeled kitchens when you're browsing online. At Copper Sky, we do it, too! If you check out our portfolio of kitchen remodels—you'll see plenty of great-looking kitchens. In reality, however, one of the major reasons to do a kitchen remodel is to improve functionality, comfort, and convenience—and to eliminate stress in the kitchen.
Why Is the Kitchen a "Stress Zone"?
The way we use our kitchens today puts a lot of pressure on them. They're still the place where we prepare meals and clean up afterward. But they are also rooms where we entertain on a fairly regular basis. They've increasingly become places where we enjoy casual meals or at least grab a snack. They are the place where homework gets supervised and family meetings take place. That's a lot to expect from a single room. No wonder it can feel stressful in the kitchen!
Older Homes Don't Make Things Easier
That stress can be exacerbated in an older home. At the time that many of Atlanta's older homes were built, the kitchen was pretty much a working room. People would cook and clean there, but no one would have dreamed of entertaining there. Kitchens weren't designed to let in a lot of light. People didn't cook the same way that they do today. Kitchens were often a one-person domain. But, if you love older Atlanta homes as much as we do, you may be motivated to recreate the kitchen in your older home in a way that respects it's history—and makes life less stressful for you.
So, if you want to update your Atlanta kitchen to reflect how you live and entertain today, you'll want to keep both visual appeal and comfort/convenience in mind.
What are the main causes of stress in the kitchen?
Before you can solve the problem of a stress-loaded kitchen, you'll need to identify the causes of stress. While there can be many things that make working or entertaining in your kitchen stressful, let's focus on four main areas: Counter space, lighting, storage, and floor space.
#1 Not Enough Counter Space
Despite the changes in how we use the kitchen, it is still a working room. We still prepare meals there—and that means washing, cutting, stirring, seasoning, and a host of other activities. All of those activities require space. Having to move things constantly to get at them is stressful. It's not relaxing if you have to constantly move items (or stack them) to perform the next task.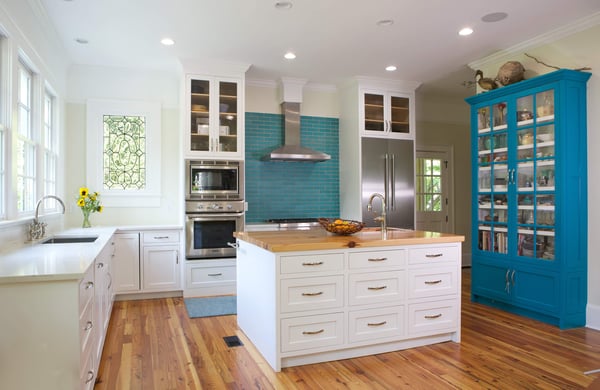 When remodeling your kitchen, allow for plenty of counter space. That's one reason kitchen islands are so popular. They provide a whole new area in which to prepare or stage food. That's also why so many kitchen islands now include sinks—so that you can wash and drain food in one area and then move it wherever you need it. Of course, there's another benefit to having a kitchen island. It provides a great spot for having a snack or a breakfast-on-the-run—if you plan ahead and include a place for family members or guests to sit.
#2 Poor Lighting
Poor lighting is another cause of stress in the kitchen. It's frustrating to perform certain tasks (cutting or reading a recipe) if you're squinting because the light isn't good. As you plan your kitchen remodel, remember that you're going to need to choose a variety of lighting for the different functions that happen there. You'll want task lighting for cleaning, cutting, reading recipes, and washing up. But you'll also want ambient lighting when you're using your kitchen as a place to gather.
One popular trend these days is to incorporate as much natural light as possible into your kitchen. That may mean replacing a small kitchen window with a much larger window that not only lets in more light but also makes the space feel much larger.
#3 Inconvenient Storage
Storage is almost always an issue that causes frustration in the kitchen. Older kitchens simply weren't designed for some of the devices we use today. And because your kitchen is also a place guests visit; you don't want to leave things out on the counter that make things look cluttered.
One of the things that cause stress is looking for the right pot or pan in your cupboards and having to get down on your knees to explore the dark back ends of your cabinets to find what you're looking for. One solution is to install cabinets that have pull-out shelves that make it easy and convenient to find what you're looking for.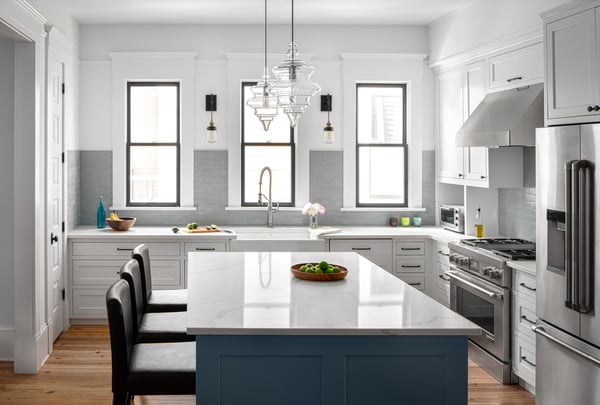 Another popular feature in today's kitchens is a bit of a throwback to older days. Including a walk-in pantry allows you to store larger food containers and seldom-used appliances and access them easily. If your floor plan won't allow for a walk-in pantry, a reach-in pantry can handle the job quite nicely. Or sometimes, you may want to go higher in your attempts to find adequate storage space (as you see in the photo here).
#4 Floor Space
One last thing that can cause stress in the kitchen is not having enough floor space. These days, guests are used to being in the kitchen with the host or hostess. But if the floor space is crowded, it can be frustrating to navigate your way around guests to complete your preparations. Building in adequate walking and loitering space can reduce the stress level in your kitchen
---
You can tell that some of these solutions may call for a "re-imagining" of your layout. That may require removing some existing walls to accomplish your objectives. You'll want to be sure you consult with a qualified professional before planning to move or eliminate walls to be sure that you don't compromise the structural integrity of your kitchen.
The bottom line for all of this is that the more you reduce your level of stress in the kitchen, the more comfortable and relaxed you, your family, and your guests will be. A great-looking kitchen is a wonderful thing. A great-looking and stress-free kitchen makes your home a place you, your family, and your guests love being!