Adam Segrest of Copper Sky Renovations Wins 2019 Remodeler of the Year
We're pretty proud of the great team that we've assembled at Copper Sky. That's why we were so pleased when the Atlanta Real Estate Forum named our own Adam Segrest the winner of the Remodeler of the Year Award at the 39th Annual OBIE Awards recently. But why does that matter for you?
About the OBIE Awards
The OBIE Awards were created in 1980 by the Greater Atlanta Home Builders Association to recognize outstanding businesses in over 100 different categories, including remodeling, building, marketing, and personal achievement. Now in its 39th year, the OBIE Awards are the premier awards given in the Atlanta new home construction industry. The name "OBIE" comes from the obelisk-shaped awards that winners receive.
Why It Matters for You—When We Win—You Win
Being recognized as an outstanding achiever by one's peers is about much more than carrying home a shiny piece of hardware to display at the office. It represents a standard of excellence, performance, and commitment to the craft of remodeling.
When you—as a homeowner—deal with someone who has been recognized in this way, you know that you're going to get exceptional quality, attention to detail, and the kind of effort that leads to exceptional results.
About Adam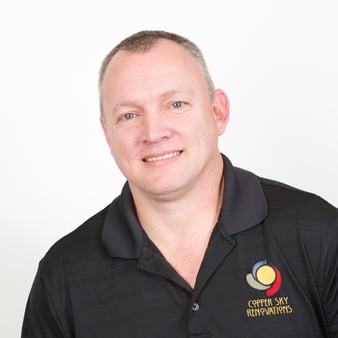 Adam is the Production Manager at Copper Sky Renovations. He is the one who manages all project managers, and carpenters working for us. He's also responsible for all production activity once a project starts. Adam has three essential goals that define his role:
Bringing projects in on budget

Completing projects on schedule

Producing happy client
All three of those things are important to anyone considering a home remodeling project in the Atlanta area. Adam has been instrumental in improving our performance in all three of these areas. That's resulted in a significant turnaround in our company. And it's an absolute win for our clients.
Adam has a laser focus on bringing projects in on budget by reducing project slippage by eight percentage points over the last year. Overall, the new processes he has implemented have raised Copper Sky's gross profit percentage by six percentage points when compared to last year! It also means that our clients can have great confidence in planning the budget for their project. Nobody likes surprises when it's time to write the check!
Next to keeping to the budget, the biggest concern many homeowners have is schedule overruns. Adam has implemented several new changes this past year that improved the project timeliness on our projects. He has also implemented a weekly client satisfaction report with Copper Sky's clients. Staying well-informed about the status of a project is something most homeowners consider essential. We're pleased to say that Adam has improved Copper Sky's customer satisfaction across the board to a 4.5 score out of 5.
More Than a Manager
Adam is more than just a Production Manager. He is also a mentor to our company's staff of three project managers and four carpenters. He is always available in the event there is an issue or escalation with the client or a subcontractor. He always steps in to resolve any issues that may arise. What that means for you is that regardless of who is working in and on your home, they have an experienced professional they can turn to with questions or for advice on how best to complete a project so that you'll be delighted.
Finally, Adam is a member of the company's Leadership program, which is responsible for helping shape the strategic direction of the company. Adam is critical within this group to determine the future strategy ad success of the company. He has taken the lead in automating much of Copper Sky's pre-production and production process, which has resulted in improved efficiencies across the board. He is also in the process of overhauling our estimating process—which means more accurate and understandable information is available to you before you begin your remodeling project.
We're delighted that Adam has been recognized for his outstanding performance, but we're equally delighted that he helps us deliver a better remodeling product and experience to our customers!
[To view all of Copper Sky's 2019 OBIE Awards, click here. ]