Can your kitchen help alleviate pandemic-related stress?
Often, when homeowners think about a kitchen renovation, the first thing that comes to their minds is creating a fresh new look. That's part of the reason that you see so many gorgeous photos of remodeled kitchens when you're browsing online. At Copper Sky, we do it, too! If you check out our portfolio of kitchen remodels—you'll see plenty of great-looking kitchens. In reality, however, one of the major reasons to do a kitchen remodel is to improve functionality, comfort, and convenience—and to eliminate stress in the kitchen.
Dealing with family stress is even more important in the COVID-19 age. Millions of people are working from home, and their kids are, too. Fostering wellness starts with the room where you spend your time. Here are a few ways you can make it work.
Pandemic Changes
It would be difficult to find anyone who defines 2020 without using the word "stressful." The COVID-19 pandemic was just the beginning. Within several weeks in the spring, most states, including Georgia, shut down all schools. For some, the closures were intended to be short-term, just a few weeks of online learning. As the virus spread throughout the country, most decided to close for the year. Only some of them chose to re-open for in-person learning in the fall.
While the kids are trying to learn from home, parents and other adults are trying to work from home. Many parents go through the day with a frightening level of brain fog anxiety. They cannot deal with a full workday on top of a full school day. Families are turning to their homes as a way to help battle parental stress, the kitchen in particular. Unfortunately, if it's not set up to help you, it's likely to cause more problems than it solves.
Take a look at these 6 kitchen layout ideas for your new home.
Why Is the Kitchen a "Stress Zone"?
The way we use our kitchens today puts even more pressure on them than we did before. They're still the place where we prepare meals and clean up afterward. The rooms where we used to entertain have now become learning spaces or workspaces. Someone comes in to grab a snack, only to catch another family member in the middle of an important meeting. That's a lot to expect from a single room. No wonder it can feel stressful in the kitchen!
Older Homes Don't Make Things Easier
That stress can be exacerbated in an older home. At the time that many of Atlanta's older homes were built, the kitchen was pretty much a working room. People would cook and clean there, but no one would have dreamed of dining or entertaining there. Kitchens weren't designed to let in a lot of light. People didn't cook the same way that they do today. Kitchens were often a one-person domain. But, if you love older Atlanta homes as much as we do, you may be motivated to recreate the kitchen in your older home in a way that respects it's history—and makes life less stressful for you.
So, if you want to update your Atlanta kitchen to reflect how you live and entertain today, you'll want to keep both visual appeal and comfort/convenience in mind.
What are the main causes of stress in the kitchen?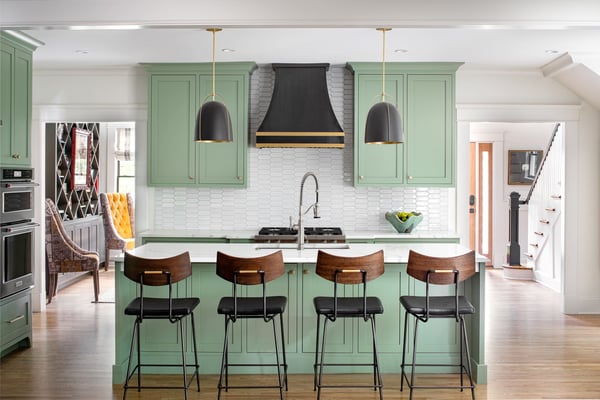 Before you can solve the problem of a stress-loaded kitchen, you'll need to identify the causes of stress. While there can be many things that make working or entertaining in your kitchen stressful, let's focus on four main areas: Counter space, lighting, storage, and floor space.
#1 Not Enough Counter Space
Despite the changes in how we use the kitchen, it is still a working room. We still prepare meals there—and that means washing, cutting, stirring, seasoning, and a host of other activities. All of those activities require space. Having to move things constantly to get at them is stressful. It's not relaxing if you have to constantly move items (or stack them) to perform the next task.
When remodeling your kitchen, allow for plenty of counter space. That's one reason kitchen islands are so popular. They provide a whole new area in which to prepare or stage food. That's also why so many kitchen islands now include sinks—so that you can wash and drain food in one area and then move it wherever you need it. Of course, there's another benefit to having a kitchen island. It provides a great spot for having a snack or a breakfast-on-the-run—if you plan ahead and include a place for family members or guests to sit.
To learn more about our approach to kitchen remodeling, download our eBook.
#2 Poor Lighting
Poor lighting is another cause of stress in the kitchen. It's frustrating to perform certain tasks (cutting or reading a recipe) if you're squinting because the light isn't good. As you plan your kitchen remodel, remember that you're going to need to choose a variety of lighting for the different functions that happen there. You'll want task lighting for cleaning, cutting, reading recipes, and washing up. But you'll also want ambient lighting when you're using your kitchen as a place to gather.
One popular trend these days is to incorporate as much natural light as possible into your kitchen. That may mean replacing a small kitchen window with a much larger window that not only lets in more light but also makes the space feel much larger.
Check out these 3 gorgeous kitchen remodels in historic Atlanta homes.
#3 Inconvenient Storage
Storage is almost always an issue that causes frustration in the kitchen. Older kitchens simply weren't designed for some of the devices we use today. And because your kitchen is also a place guests visit; you don't want to leave things out on the counter that make things look cluttered.
One of the things that cause stress is looking for the right pot or pan in your cupboards and having to get down on your knees to explore the dark back ends of your cabinets to find what you're looking for. One solution is to install cabinets that have pull-out shelves that make it easy and convenient to find what you're looking for.
Another popular feature in today's kitchens is a bit of a throw-back to older days. Including a walk-in pantry allows you to store larger food containers and seldom-used appliances and access them easily. If your floor plan won't allow for a walk-in pantry, a reach-in pantry can handle the job quite nicely. Or sometimes, you may want to go higher in your attempts to find adequate storage space (as you see in the photo here).
#4 Floor Space
One last thing that can cause stress in the kitchen is not having enough floor space. These days, guests are used to being in the kitchen with the host or hostess. But if the floor space is crowded, it can be frustrating to navigate your way around guests to complete your preparations. Building adequate walking and loitering space can reduce the stress level in your kitchen.
You can tell that some of these solutions may call for a "re-imagining" of your layout. That may require removing some existing walls to accomplish your objectives. You'll want to be sure you work with a qualified kitchen designer before planning to move or eliminate walls so that you don't compromise the structural integrity of your kitchen. Take a moment to see our kitchen remodeling photos, to get ideas and inspiration for your own home.
Healthy Eating
Our lives seem to have changed for the long-term, due to COVID-19. Now we need to make sure that they change us for good. All the pandemic snacking may have helped to lower anxiety in the early weeks. Over time, it can make people stress out or feel sluggish. Anyone who worked from home before the pandemic can tell you that snacking is a habit you'll need to manage before it gets out of control. If you put easy, healthy foods within reach, you're more likely to eat them instead of chips or candy.
To solve this problem, many families are building snack stations near the spots where adults work and kids study. Baskets of fruit, or a small set of drawers with granola bars, make it easy for anyone to grab them and go on to their next task. A special drawer in the fridge puts cheese and yogurt at kid-height, as well. These few organization tasks also help keep everyone from wandering the kitchen, making a mess and leaving.
Positive Habits
If you're trying to figure out how to deal with family stress, start with your environment. Building positive habits is key to your health and wellness. Here are a few tips to make your day run more smoothly:
Create individual stations for food preparation, cooking, studying and work.
Provide appropriate storage for each task, so that cleaning is easy.
Hang inspiring pictures or other motivators on the walls.
Set aside 5-10 minutes each day to tidy the space.
Get the kids involved in setting up and taking down their study areas.
When you need to clear brain fog instantly, decluttering is one of the fastest ways you can achieve it.
The bottom line for all of this is that the more you reduce your level of stress in the kitchen, the more comfortable and relaxed you and your family will be, no matter what lies ahead. A great-looking, practical kitchen is a wonderful thing. Contact us to learn more about remodeling your kitchen for a new world.