10 Must-See Kitchens in Atlanta
How are Atlanta's best interior designers creating new luxury kitchens in outdated spaces? It's helpful to track trends as you prepare for your own remodel, but it's equally rewarding to scout innovative kitchen renovation designs that are likely to blossom into trends. Today, let's take a tour of the top 10 cutting-edge kitchen designs in Atlanta, GA. Let our unique kitchens spark your imagination and introduce new possibilities.
Kitchen #1: Atlanta Kitchen Delight

Step into an exquisite kitchen featuring walnut-finish shaker cabinets adorned with antique brass handles, pulls, and plumbing fixtures. The upper cabinets, in elegant white, showcase arched glass doors and glass shelves for stylish displays. An exposed brick accent wall adds a touch of authentic charm, while a white subway tile backsplash brings a timeless appeal. With gun metal gray appliances and a matching range hood, this kitchen strikes the perfect balance between contemporary and classic. Ample cabinet space and a paneled refrigerator ensure a clutter-free look, while the large format tile floor adds a touch of modernity.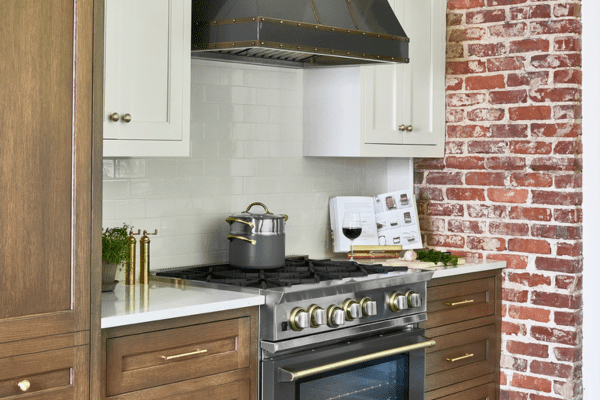 To see all the photos from this project visit our Houzz page.
Kitchen #2: Pass-through Perfection in Virginia Highland

Welcome to a kitchen bathed in natural light, courtesy of the pass-through window overlooking a picturesque outdoor grilling area. The perfect fusion of rustic charm and contemporary style, this kitchen boasts white and blue-gray cabinets adorned with rustic bronze handles and pulls. Every kitchen design needs such a cohesive vision. The wood island serves as a centerpiece and provides additional seating. Built-in display shelves showcase personal treasures, while a custom range hood with a wood finish adds a touch of uniqueness. Completing the look, a white patterned backsplash with arabesque shapes adds a dash of elegance.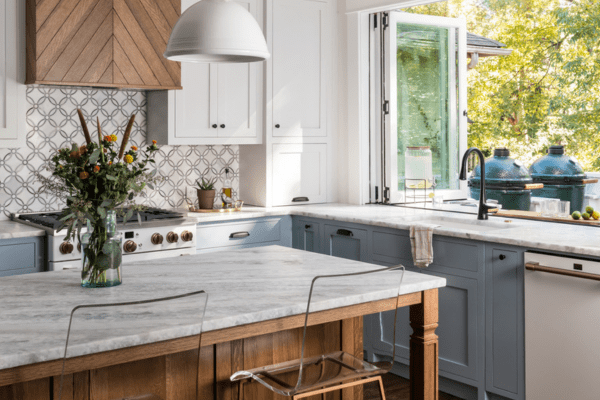 To see more photos from this project, please visit our Houzz page.
Kitchen #3: Luxury in Lake Claire
Introducing a stunning transitional kitchen that effortlessly blends timeless elegance with modern functionality. The soft blue cabinets create a serene atmosphere, complemented by the warm tones of the stained wood center island. A classic white subway tile backsplash adds a touch of sophistication, while the wood trim around the windows with classic mullions brings charm and character. The multi-purpose island serves as both extra seating and a convenient cooktop station. Enhancing the overall aesthetic, pendant lighting and gold cabinet pulls add a luxurious and refined touch.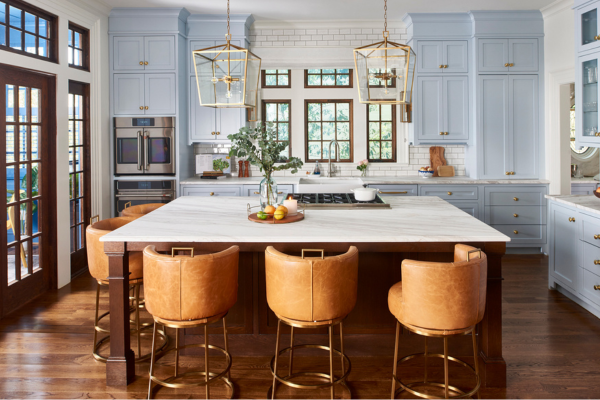 To see more photos of this kitchen, please visit our Houzz page.
Kitchen #4: Buckhead Classic Kitchen Renovation
This open-concept kitchen is a true classic. White perimeter cabinets offset the white oak island stained in a natural finish. Leaded glass-front upper cabinets add a touch of sophistication and elevate the design. The classic subway tile backsplash in a soft oyster color provides just a bit of contrast to the cabinets and complements the quartz countertops and backsplash on the oven wall. Antique brass hardware lends just the right amount of elegance to this beautiful yet approachable kitchen.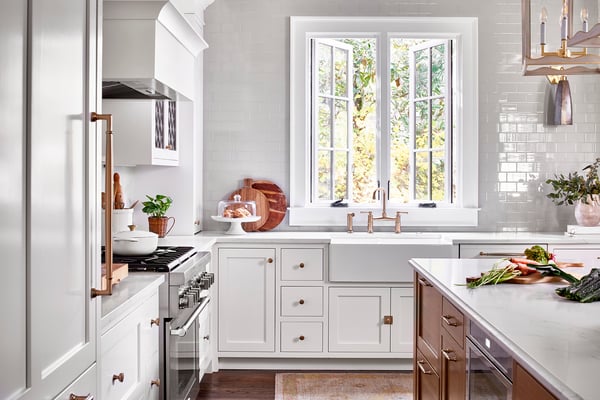 To see all the photos from this project visit our Houzz page.
Kitchen #5: Atlanta Bold Kitchen Remodel
Starting with bold green cabinetry and ringed with support for a library ladder to access the ceiling-height upper cabinets, this kitchen packs a sophisticated punch! While this galley kitchen is modest in size, it's packed with pristine details like brass hardware and plumbing, small-format custom tile, and glass display cabinets! This is truly a custom kitchen, designed to maximize storage space and make a design statement.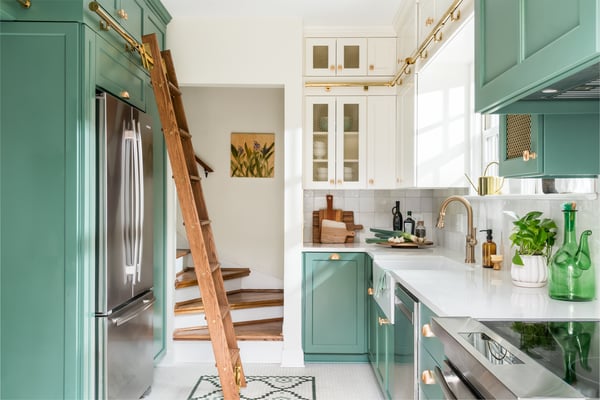 To see all the photos from this project visit our Houzz page.
Kitchen #6: Beautiful Buckhead Kitchen Design
What was a closed off kitchen in a cramped space in now the show-stopping heart of this home. We removed cumbersome walls and reconfigured the layout to allow for an oversized island that offers ample seating and plenty of prep space. We've stashed appliances behind cabinetry for a sleek and uninterrupted aesthetic featuring classic white cabinets and warm oak on the island. Twin statement pendants above the island and matching brass fixtures and plumbing provide warmth and drama to this clean and airy workspace.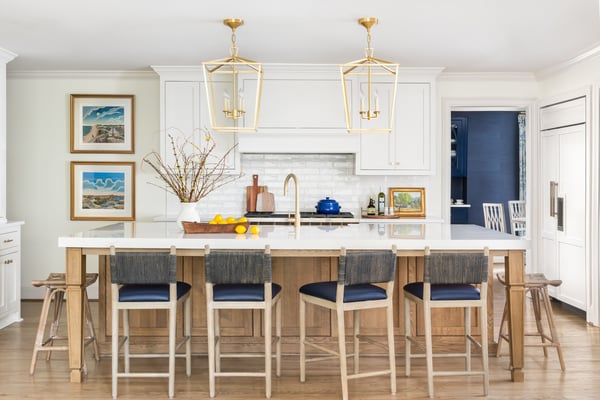 To see all the photos from this project visit our Houzz page.
Kitchen #7: Atlanta Cottage Renovation
With matte finishes, natural fiber accented pendants, and a muted color palette throughout, this kitchen gives off a coastal chic aesthetic that is relaxing and serene. Arched cased openings with curved edges enhance this California cottage vibe. With a mix of custom and semi-custom cabinetry in vibrant blue, our team was able to provide the storage solutions the homeowners needed, all within their budget.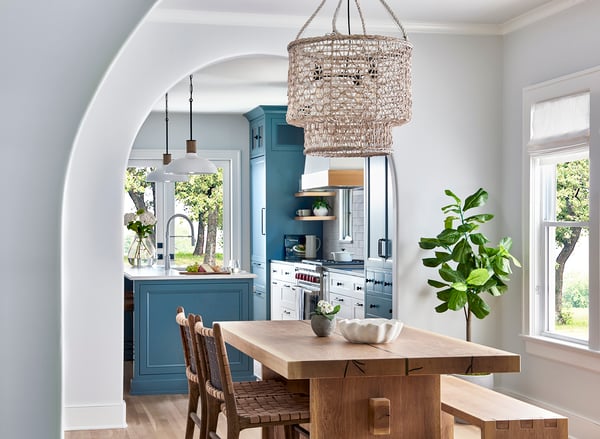 To see all the photos from this project visit our Houzz page
.
Kitchen #8: Decatur Kitchen Renovation
Perhaps its most notable element of this Decatur Tudor is its tightly harmonized dualism of tone and time. The colorful kitchen island serves as the central feature in the space, while the neutral-color perimeter cabinets provide plenty of storage. The quartz countertop is carried up the stove-top wall to serve as a stunning and functional backsplash. Quartz is a popular material for kitchen countertops as it is durable and requires little maintenance. The copper pendants and oven handles add just a touch of bling to this brilliant kitchen design.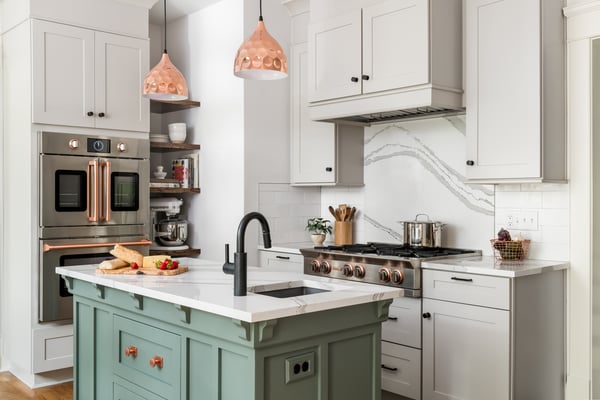 To see all the photos from this project visit our Houzz page.
---
Kitchen #9: Atlanta Indoor/Outdoor Living and Kitchen Renovation
In this transitional kitchen in Atlanta, our team installed a custom banquette adjacent to the L-shaped island. We also incorporated custom cabinetry with tons of storage, a patterned tile backsplash, modern hardware and pendants, and Dekton countertops. An accordion-style pass-through window was installed where the kitchen countertop extends to the exterior bar which makes for improved flow and easy indoor-outdoor entertaining.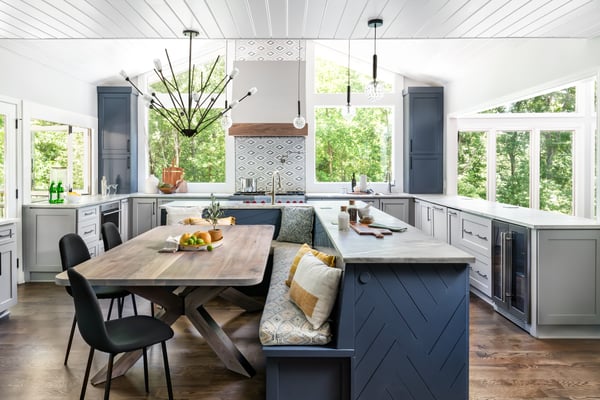 To see all the photos from this project visit our Houzz page.
Kitchen #10: Mid-Century Modern in Atlanta
With clean lines and a neutral color palette, this mid-century-modern kitchen renovation is a stunner.
Materials were carefully selected to create clean lines but not be cold in color or feel. The two-tone wood cabinets help frame the kitchen and the copper counters were selected specifically so that they would patina over time and show wear and use patterns, a way of bringing the materials "alive".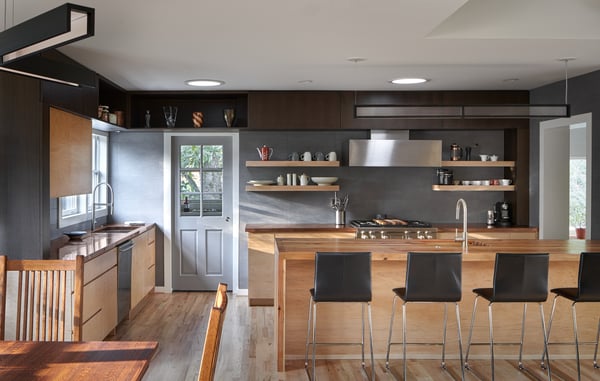 To see more photos from this project, please visit our Houzz page.
Bonus: Deep Dive
Transitional Kitchen Renovation in Atlanta
We're thrilled to highlight this gorgeous transitional kitchen renovation in Atlanta, GA. Our clients made the decision to remodel their kitchen after a pipe burst, and instead of opting for a surface fix, they decided to revitalize the entire house with a fully-fledged, central remodel.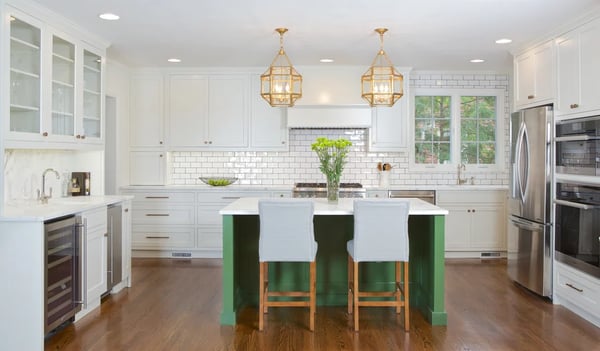 Not only did the client alter their floor plan, but they also updated all internal structures to feature custom cabinets, handmade tiles, and stunning brass fixtures. The result is an interior remodeling showstopper.
The Layout
Though not overly flashy, one of the most perfect elements of this kitchen is the pleasing and peaceful balance it achieves between symmetry and asymmetry. The stove serves as our focal point, centering lower cabinetry in a nearly perfect symmetry that is echoed in the floating island with its two barstools and two lighting fixtures.

The layout achieves interest, however, in the asymmetrical but still perfectly balanced deviation of the upper cabinetry and window above the sink on either side of the oven range hood. A wider view of the room shows an extra workspace on one side and extra storage space on the other, both punctuated by perfectly balanced doorways leading into adjacent rooms.

And yet, we are not left admiring this perfect traditional kitchen remodel from a distance. Instead, the direction of the white oak flooring pulls us into the room and into the center of activity.
The Appliances
Although this is an average-sized kitchen, no appliance or feature is wanting, and yet the overall effect is far from feeling crowded. The central oven and cooktop are not the only cooking and baking options available. There is also a wall oven and a microwave wall oven next to the main refrigerator.
On the other end of the kitchen, we find a secondary bar and prep sink flanked by a wine cooler and a second refrigerator. The multiple and matching stainless-steel heating, cooling, and water appliances and sinks are well distributed throughout the space, making this the perfect kitchen for an avid chef or a leisurely dinner prepared with the help of family or friends.
Design in the Details
But perfection may be found in the details of this remodel just as much as it is in its overall design. Our kitchen design experts have executed an impeccable balance of tones. We have the warmth of the brass lighting fixtures (and matching brass drawer pulls), the white oak floors, and the wood on the barstools.
These warm tones are completed by the cooler tones of the white custom cabinetry, the honed Calacatta Venato countertops, and the marbled and white, highlight-reflective, handmade tile backsplash reaching all the way from the lower cabinetry to the ceiling.
Bonus: Deep Dive #2
Transitional Kitchen Renovation in Atlanta
The first thing you'll notice about this kitchen remodel is its remarkably bright and open layout. We intentionally left the kitchen's main wall free of upper cabinets to create a fresh and spacious appeal. Yet in a smaller kitchen, did this bold aesthetic decision compromise a practical need for storage and functionality?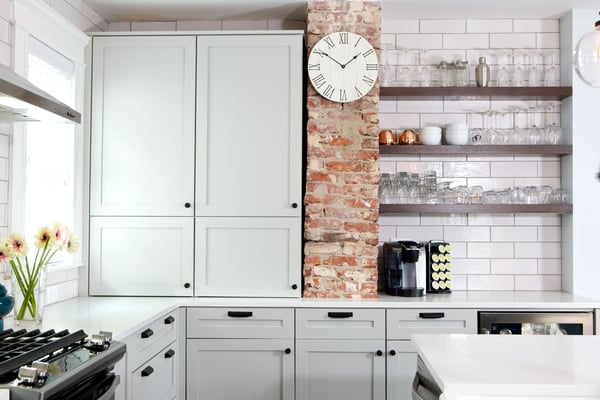 No. In fact, this kitchen houses all the essentials and more, with plenty of goodies to support a posh Atlanta home and lifestyle. (Check out the wine cooler and coffee nook!). So how did we accomplish both goals? We structured our layout very carefully to include one full wall of cabinetry and one-half wall of cabinetry unpunctuated by a counter prep space, allowing for a beautifully open central wall as the focal point.
Textures That Talk
The difficulty with allocating entire walls for cabinetry is that the effect can be both bland and overbearing. We offset this by keeping the overall color scheme incredibly simple while letting the texture do the talking. In the case of the cabinetry, this meant setting repurposed mirrors inside the frames of each upper Shaker cabinet. The mirrors fuse with the full wall of reflective subway tiles to magnify the room's natural lighting.
But the weathered mirrors and tile aren't the only textures in this modern kitchen design that tell a story of the home's historicity. We also refinished the original, dark hardwood floors and intentionally exposed a brick column by the beverage corner.
These textures, combined with the painted shaker cabinets, marble countertop, open wooden shelving, and full Victorian-style trim work around the windows speak to our care for intricate craftsmanship that highlights the best features of the original home.
Each home has a story to tell, and we love helping you find the best way to tell it. We invite you to explore the unique ways in which we've restored and breathed new life into some of the oldest homes in Atlanta, always respecting the original builder's intent and each homeowner's individual personality. Reach out today to tell us about your home and remodeling vision.
For more gorgeous kitchen remodels by Copper Sky Design + Remodel, view our kitchen remodeling portfolio.