Inside this Mid-Century Modern Remodel in Buckhead
Creating a retro renovation takes a deeper understanding of design. If you want a Mid-Century Modern style, there are plenty of ways you can get it without sacrificing on the function and comfort of the space. This home remodel in Buckhead features everything that homeowners would have expected in the 1950s, with a variety of stylish upgrades.
Retro Style Meets Modern Materials
Walking into this space feels a little like moving back in time. Although all of the elements are there, from the Blomquist dining chairs to the wood paneling, homeowners aren't compromising on everything they want for the modern age. Custom cabinetry and stone countertops, along with state-of-the-art appliances, make food preparation a dream come true without feeling trendy.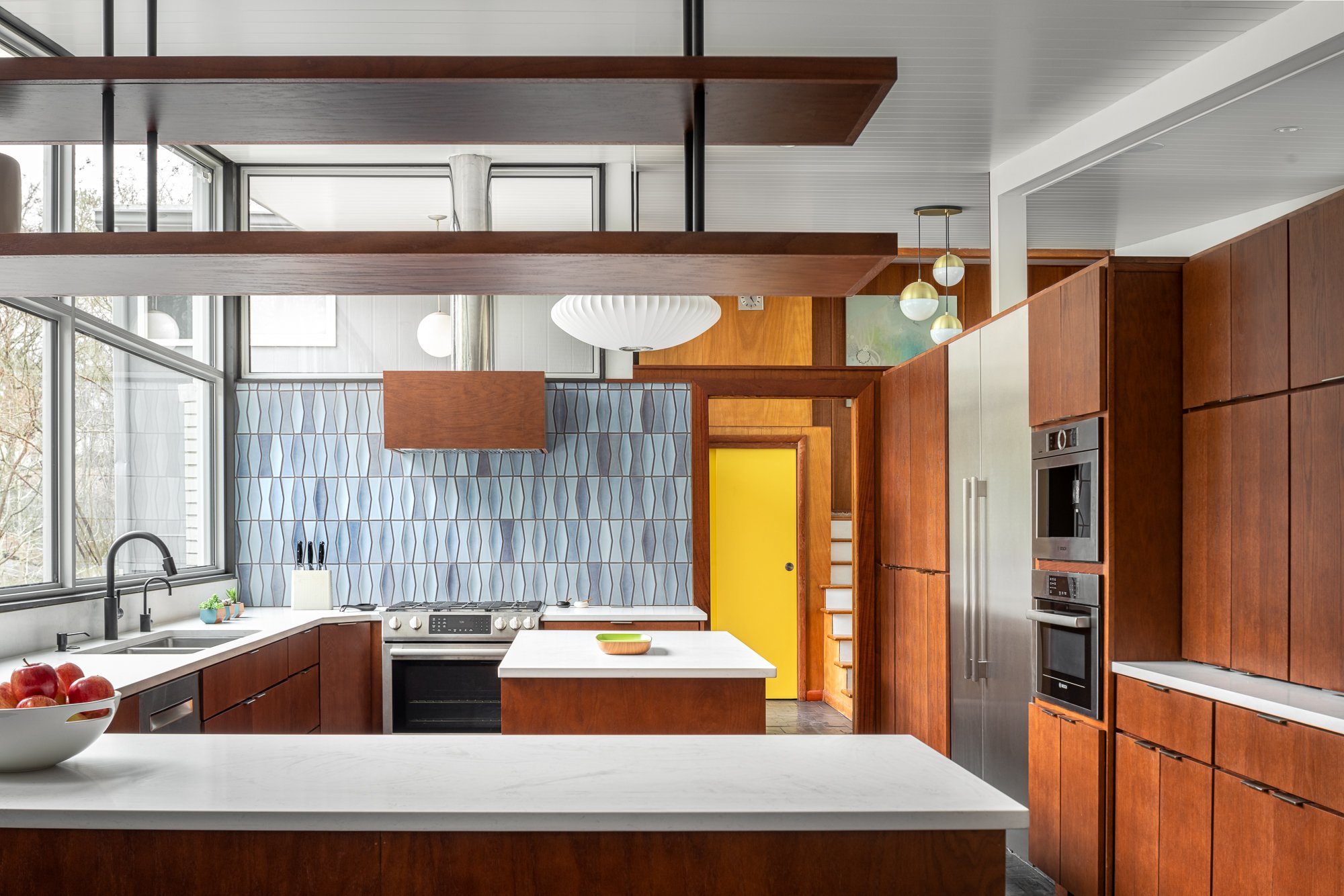 Unifying Color Scheme
Remodeling several spaces in a home give a unique opportunity to bring it all together. The style of this project features a unifying color scheme. Mahogany wood paneling coordinates with the oak cabinetry and hanging shelves. The two-tone style of the staircase brings those colors from room to room.
Warm and Cool Contrasts
Mid-Century Modern styling often includes color distinctions like black and white, but this home takes it in a slightly different direction. The warm wood of the kitchen and dining room contrast with the cool blue of the glass bottle backsplash. Hints of orange and warm brown break up the cool gray tile flooring. This provides for eye-catching elements throughout each room without feeling too much like a cliché.
Open Transitions
Although older homes typically have smaller, defined rooms, keeping a Mid-Century Modern style does not obligate the space to feel closed in. The open layout typical of modern homes gives a seamless transition between rooms. The open kitchen flows into the dining room, which leads very naturally into a sitting area perfect for relaxation or entertainment.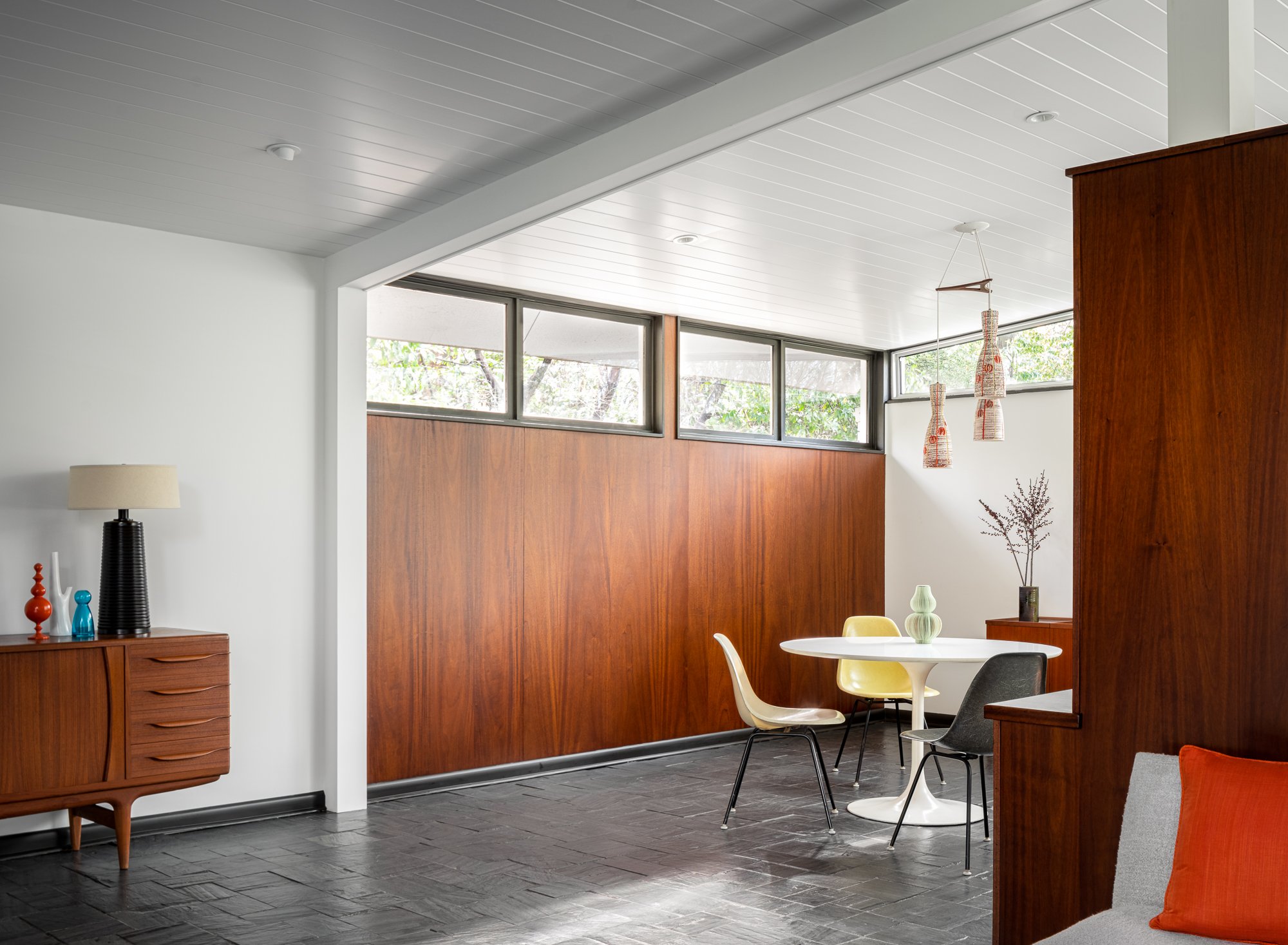 Seamless Function
Although this home does not quite feature a minimalist approach, it is easy to see how the homeowners wanted style without clutter. The large, open windows allow for plenty of natural light throughout the space. This contrasts with the wood paneling to make the area appear very open and airy. Minimal upper cabinets on three kitchen walls provide additional storage and space for dual ovens, while leaving the rest of the space open for food preparation. The built-in refrigerator cabinet gives the room a cohesive design.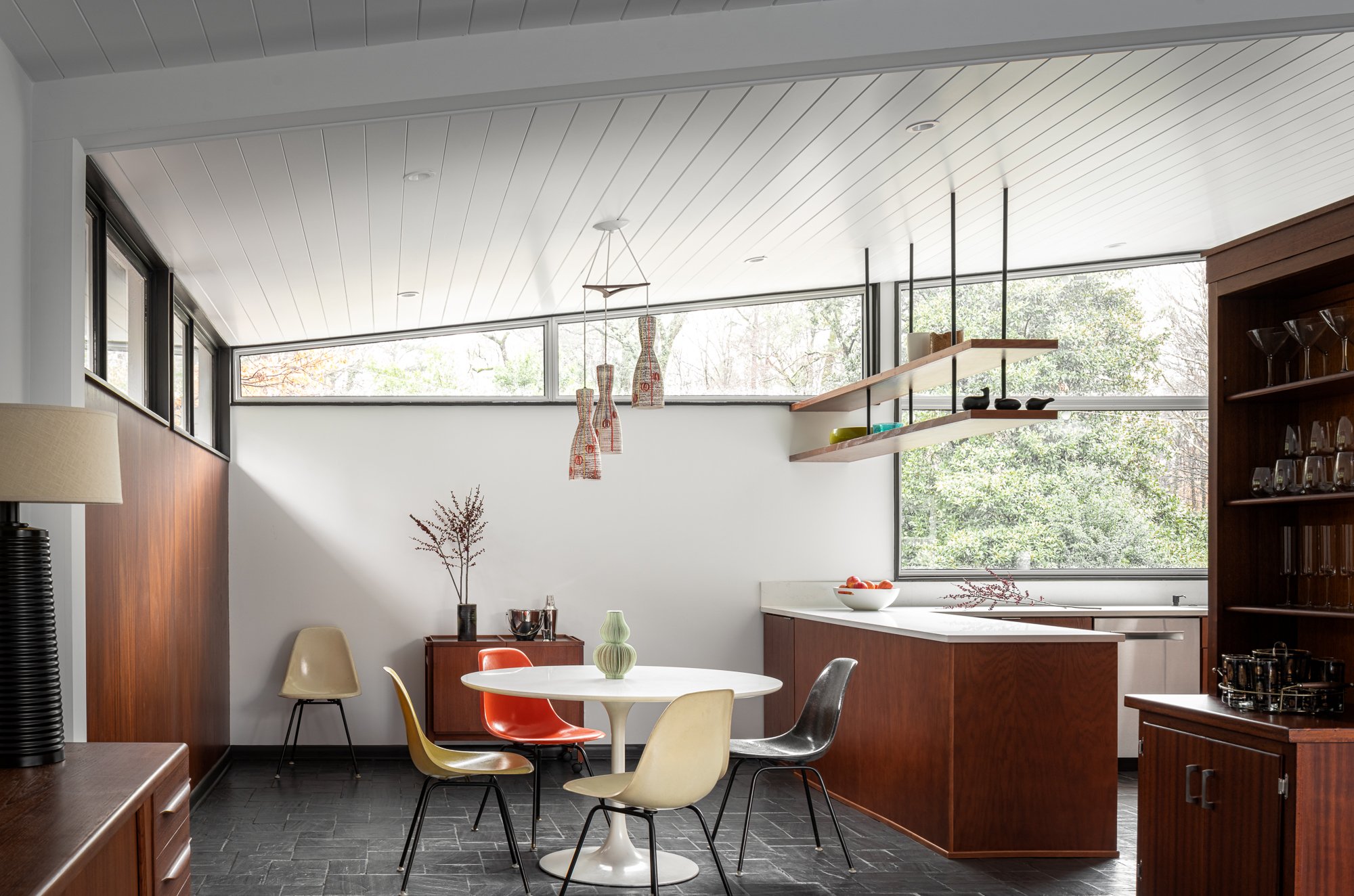 Tempting Textures
This house contains plenty of clean lines, but there are also textures everywhere. The tile flooring is not seamless. Slight changes in height create shading and depth without making it more difficult to walk across or clean. The textures and shapes in the light fixtures break up the white ceiling and create a feeling of luxury.
There is a certain beauty in the styles gone by. Mid-Century Modern has taken on a new life in the 21st Century, with colors and designs that remind people of the past. Finding the right balance between decades takes an expert designer and builder with an understanding of how to construct an ideal layout for modern life, without feeling up-to-the-minute.