Ranch House Remodels in Atlanta
While ranch-style homes enjoyed their heyday from the 1940s to the 1970s among America's burgeoning post-war middle class, they've recently become popular housing options again. Many home buyers in the rising generation are seeking retro, mid-century, ranch-style homes to remodel, and many elderly are seeking ranch homes since their single-story floor plan is ideal for aging in place. Since we firmly believe in restoring older homes with an eye toward practical design and stylistic preservation, we've assembled some tips on how to approach your ranch remodel.
Open Your Floor Plan
One of the most beautiful features of ranch style homes is their long, low-pitched rooflines, which correlate to the potential for long, open views inside. Ironically, several ranch homes were originally constructed with many tight hallways and rooms on the interior, blocking open views internally. Since open floor plans have enjoyed a resurgence in popularity and are unlikely to disappear quickly, ranch homes lend the perfect layout for removing interior walls and capitalizing on this trend. Having an open floor plan opens up the home and allows natural light to flow through the area most efficiently. Open floor plans are less expensive because there's less rooms to build. There's no need to add walls, doors, or glass to build individual rooms, so you end up saving on construction and installation expenses.
Add Natural Light
Widening windows and introducing sleek, industrial design sliding glass doors to patios and between rooms is another wonderful way to add natural light and airiness to your home while modernizing and giving a nod toward the sliding door design so popular in original ranch homes. Adding natural light is not only a healthy way to stay connected the outdoors, it's also a sustainable.
Nobody ever turned away from saving money and neither should you! Having an ample amount of natural light flowing throughout your ranch house is the perfect way to save money on your energy bill while being environmentally friendly. If you run into a pricing problem with large custom windows, you can supplement them with large glass doors because ranch homes are typically one floor. This will be a more cost effective option that doesn't hinder the natural light element to your home.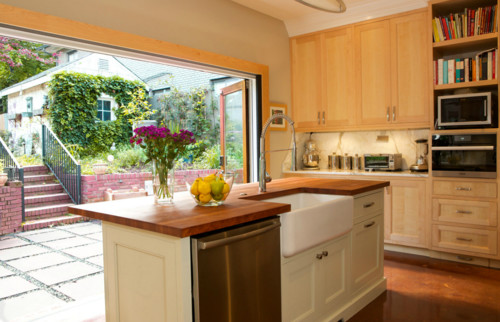 Make the Most of Retro Features
Ranch homes are treasure troves of mid-century design features. Make the most of these by exposing and painting ceiling beams, refinishing hardwood floors, capitalizing on brick (both inside and outside), and updating fireplace facades. Bringing these features to the forefront of your design will boost your home's charm and give you the opportunity to put a modern twist on it at the same time. Here's a list of defining features for a ranch home:
Cross-gabled, side-gabled or hip roof

A mix of materials on the exterior (most commonly stucco, wood, brick or stone)

Single-story living

Deep, overhanging eaves

Large windows

Sliding glass doors

Back patio
The best way to start conceptualizing your very own ranch home is by envisioning its purpose and aesthetic. How will you be able to make the most out of the features your home currently has? What are the absolute necessities for your ranch home remodel?

Expand
Finally, because most ranch homes built through the '70s average 1,000 to 1,500 square feet with 3 bedrooms, you may want to consider an addition. Additions are usually relatively easy to accommodate in your ranch style remodel since yard space tended to be larger when ranches were built and since expanding out rather than up is cost effective. Removing walls and visual barriers make the space appear much larger in size.
Adjusting or adding on to the kitchen is a particularly popular expansion project in ranch homes since kitchens are typically appended to ranch homes and given less square footage than other main living areas. Consult with your remodeler to discuss floor plan renovations options for your ranch style remodel.


Potential Problem
Ranch homes are usually prone to having cold spots because they don't handle natural heat loss as well as a multi-story house. Houses built on concrete slabs typically loose a lot of heat through the foundation, and a one-story ranch home will have a larger foundation compared to a multi-story home. On the plus side, the exterior of a ranch home is easy to maintain because they're usually made of brick, which requires little maintenance.
As with any renovation, choosing the right contractor is the absolute best way to ensure a quality overall experience with your remodel. Hiring a contractor with a rich history of renovating older homes is what you should be looking for. They have the experience to navigate through these issues before you ever see them coming.


In Conclusion
Ranch home remodels are growing more and more prominent as time goes on due to the conventional nature of open floor plans and single story living. There's a ton of room for customization upon building a ranch home. Remodeling a ranch home is a great opportunity to expand the layout of your home to optimize space. Ranch homes come in a wide array of styles that include California Ranch, Suburban Ranch, Split-Level Ranch, Raised Ranch, and Storybook Ranch. Selecting one of these styles is a great place to start when defining what you want out of your ranch style remodel in Atlanta.