Can I Create a New Room Without Adding Square Footage?
Whether you need an extra room to accommodate an expanding family, to create a private home office, or to provide storage space, sometimes you won't want to lose lawn space by adding extra square footage. In these instances, it's best to consult with a designer and contractor to brainstorm a creative workaround.
Basement Remodeling
The most cost-effective way to increase usable square footage is to remodel an unfinished basement. Since the structure is already in place, it's relatively inexpensive to pull new wiring, add plumbing, install drywall, lay flooring, and create a fresh and well-lit space from a previously bare-bones or dingy basement.
You'd be astonished at how many people don't utilize their existing basement space to its optimum capability. Being able to remodel your basement is much more affordable than building a new addition to your home. In most cases, you don't need the square footage to compensate for lack of space. It's much more affordable and efficient to use what space you already own. If you've already completed a basement remodel and still need extra space, consider one of the following options.
Convert Your Attic
Remodeling attic space is the second easiest tactic to add a room within your home's existing footprint. When you convert an attic into a bedroom, guest quarters, home office, etc., you'll need to check building codes and restrictions, have an architect assess whether the new room requires added structural support, and speak with your contractor about extending plumbing, electrical, and HVAC systems.
Keep in mind that attic remodels are typically required to have their own staircase access rather than just ladder access. Here are a few things you should know before starting your attic transformation.
Rafters vs. Trusses: Rafters are used for attic expansion. They look like giant triangles that form the peak of your home's roof. Trusses are larger triangles composed of smaller triangles and have to be replaced in order to follow through with an attic remodel.

Flooring:

Attic flooring typically isn't as strong as your standard living space flooring.

All attics' joists can carry a minimal dead load weight (i.e., 10 pounds per square foot). Minimum live load requirements are four times more than dead loads.

Insulation:

Today's attic remodels are getting foam insulation sprayed between the rafters before the installation of drywall.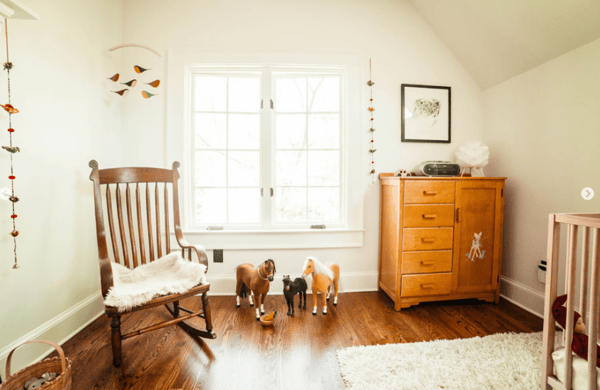 Construct a Mezzanine
A mezzanine is a sort of half-attic, a loft that may be added to homes with tall ceilings. While a mezzanine may not be able to accommodate a full bedroom, it's the perfect solution for a loft bed, a children's play area, or even a small home office. It also requires fewer permits and is relatively easy to build.
You can access a mezzanine either with a ladder or a staircase, the latter of which allows for the creative incorporation of extra storage space or even a small room of its own. Whether used as an art gallery, workspace, or a music studio, mezzanines are great alternatives if you can't fully commit to an attic remodel. There are so many wonderful benefits to elevating the space in your home.
Benefits:
Cost-Efficient Extra Space
Storage Benefits
Modular and Customizable
Easy Installation
The primary benefit of installing a mezzanine in your home is that it gives you a substantial amount of extra space without breaking the bank. A brand new floor of any size can be placed wherever you see it fitting in your home. There are other options to give your home more space, but none are as efficient and cost-effective as constructing a mezzanine in your home.
Build Storage Overhead
Building overhead storage is a great way to utilize the space that you already have in your home. Sometimes, the need for an extra room can be eliminated entirely when better storage solutions exist. For example, if you can better utilize basement storage or expose the eaves in your home to accommodate extra storage (if it has a pitched roof line), you can find new ways to store items you use infrequently and/or seasonally. Often, this allows rooms with distinct purposes to be combined, be that siblings sharing a room, an office that doubles as a some-time guest bedroom, or some other combination.
Budget Existing Room Borders Better
Of course, the most obvious way to create an extra room within your home's existing footprint is to add extra walls. While this option is the least popular since it automatically steals square footage from surrounding rooms, it can be the right choice. In some instances, the conception of an open floor plan does preclude a necessary number of private bedrooms, offices, guest rooms, libraries, etc., while simultaneously creating unused floor space. Open visual lines are always attractive, but sometimes delineating spaces rather than opening them can be the right solution. It's always best to use creative judgment and work with your contractor to see what the possibilities are. In other words, test convention with what works best for you and your household.
In conclusion
Deciding the best way to create a new room for your home without adding square footage is completely dependent upon the way your home is built. Getting creative with the ways you use your space is what's going to give you the best chance of having a successful remodel.
There's a wide array of ways to make the most out of your space at home. Whether you're trying to optimize space above or below, it's best to consider being sustainable along the way. Choosing a contractor that's committed to sustainable building practices is the best way to go for an expansion project. Creating a new room without adding square footage can certainly propose its challenges, but we hope you'll feel better about your options after reading the available avenues listed above.