Everything You Need to Know About Excavating a Basement in Atlanta
We will often speak with homeowners who love their home but wish it had more space and utility. Basements can often fit the bill. Many homeowners think that a basement cannot be built if a current space doesn't exist. But the truth is that if you have a crawlspace- you can have a basement. Here's what it takes to excavate a basement in Atlanta. Jump To:
The process of excavating a basement in Atlanta can take at minimum several weeks from start to finish. It involves the digging of dirt under your home and careful adjustment and extension of the existing foundation. Careful space planning ensures that the rest of your home remains in excellent condition throughout the duration of the project.
Turning a Crawlspace into a Basement by Excavating
The work of excavation is probably the most significant part of the process that you will notice as a homeowner. Excavation involves removing many features of your existing crawlspace and digging a hole under your house. Because excavation involves moving heavy soil one cubic yard at a time, it's not a quick job. However, since the home is already built- shifting the dirt is faster than it would be if you were building a new home. Once the dirt from under the house has been excavated- our team continues on to build the rest of the basement.
Step #1: Extend the Foundation
As a child, you may have dug a hole in a yard and attempted to create a new structure of some kind. The ease with which an empty hole caves in shows you the importance of keeping the foundation stable throughout this process. The foundation is the one thing that keeps the rest of your house from collapsing or shifting while the workers continue to excavate. Part of extending the foundation happens during excavation. This means lengthening the footings and pouring additional concrete. The end result is a basement enclosed in concrete that will adequately support your home.
Step #2: Installing Drainage
Anyone who lives in Atlanta knows that water flows downhill, and there can be a lot of it at times. If you have a basement, you need sufficient drainage to keep water out. You may be thinking that this mostly focuses on flooding from storms. However, you also have to deal with drainage related to water that naturally exists in the soil around the basement. Even if your foundation is in perfect condition at first, over time, it may develop cracks or gaps that allow water to leak inside. Installing drainage is the best way to manage this. It is also an excellent time to consider a system like a sump pump to control flooding.
Step #3: Finishing the Basement
Some homeowners choose to have at least part of a basement unfinished, for food storage or other uses. Otherwise, finishing the basement is the best way to ensure it will get used. This process can take a few weeks from start to finish- and includes installing the following elements:
Heating

Air conditioning

Walls

Flooring

Lighting
Designing your basement with you or your family's unique needs in mind allows you to coordinate your new space with the rest of your home- while maximizing style and comfort. Some homeowners may choose to add a gym, several bedrooms, and baths, or a playroom or teen room. Click here to take a look at this stunning Atlanta-area basement that features a weight room and sauna.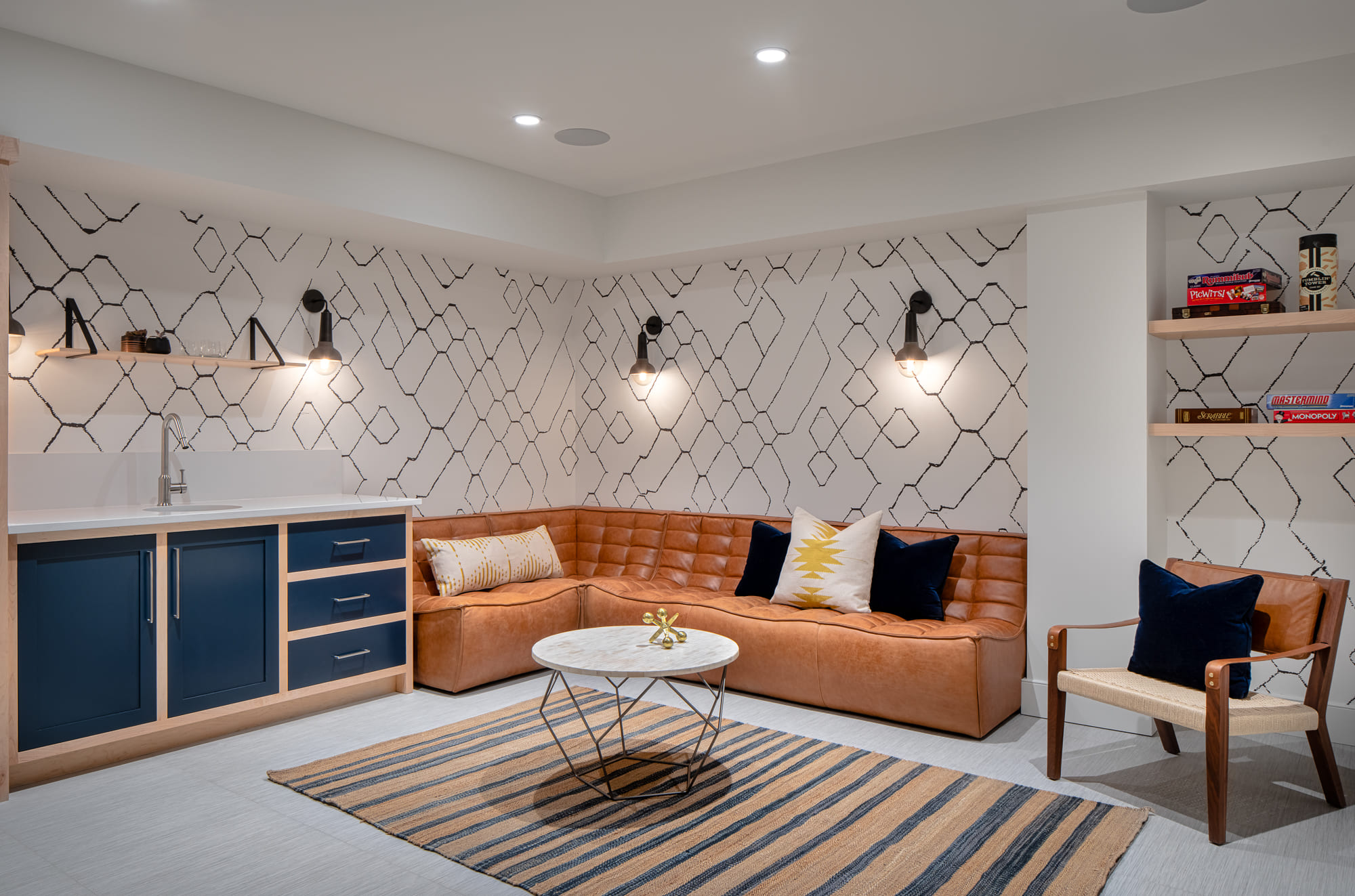 Benefits of Building a Basement
If you have never lived with a basement, you may not know all the benefits of extra space. A basement tends to keep a more constant temperature, which is terrific, especially during a hot summer. Basements also have other advantages: dramatically increasing your living space and the options you have for using it. Keep these in mind as you decide if this project is right for you.
Increased Living Space- The most significant (and most obvious) benefit of excavating a basement is the increased living space. Although many people choose to use the basement as a place for the kids to hang out or to use as a home office, you have all the flexibility in the world to create the space you desire most. You can create a generous master suite, design a home theatre room, or even a wine cellar. You are only bound by the dimensions of the space and your imagination.
More Room for the Kids- As kids get older, they tend to take up more space. When they are little, giving them a playroom allows you to contain the spread of toys- making it easier for you to clean the rest of the house and gives the kids a unique area. Once they become teenagers, they may want to bring friends over and have private entertaining spaces. A basement is ideal because they can make more noise without constantly distracting you while you work or enjoy leisure time. You can even put one or more of your children's bedrooms downstairs, for a little extra privacy and space for those all-night study sessions.
Separate Living Space- The idea of independent living spaces within one house is becoming increasingly popular. If you have a parent or an adult child who lives with you, it may be imperative to keep specific spaces separate. This allows everyone to have the freedom to move without constantly running into each other. The basement is a perfect spot for an in-law suite or even a separate apartment. It has all the components of an apartment, like a kitchen, bedroom, and bathroom. If you're looking for a way to generate extra income, renting it out might be an ideal solution that maximizes your investment.
In-Law Suite- There's little debate about the advantages of adding a second living space to your home. In nearly every phase of life, a second bedroom, kitchen, and bathroom will be in high demand. Whether you have teenage children who are seeking independence and privacy, adult children living with you after college, parents or in-laws moving in, guests to entertain, or a live-in caregiver, an extra living area will always be greatly appreciated by your family and guests.
Second Family Room- Family rooms (or entertainment areas), are eternally popular in basement remodels. This is because they provide a focal gathering point that centers and grounds all other rooms in the basement. They are all-purpose rooms that can double as play rooms for kids or entertainment areas for family or guests. They are also easily adaptable to each home owner's preferences, thus adding resale value to the home as a whole instead of devaluing it by being over-specialized.
Extra Storage Space- If you live in an older home, you may want to explore the idea of additional storage space. People simply didn't have as many things as they do now, which means that lots of homes don't have enough places to put everything. Many homeowners find themselves in the position of needing to build a storage shed or rent one nearby. This can be a hassle, especially if you want to access your stored items any time of the day or night. Additional storage space for things like decorations or seasonal gear is excellent to put in the basement. You can customize your storage options to make it efficient while keeping your items in excellent condition.
Higher Resale Value- Of course, no discussion of adding onto your home would be complete without considering how it would affect your resale value. Although basement square footage doesn't always count the same as square footage above grade, you can still use the basement to make your home more competitive with the neighborhood. Adding a bathroom and one or two more bedrooms may put your home in a different category when you eventually decide to sell it, dramatically increase your resale value.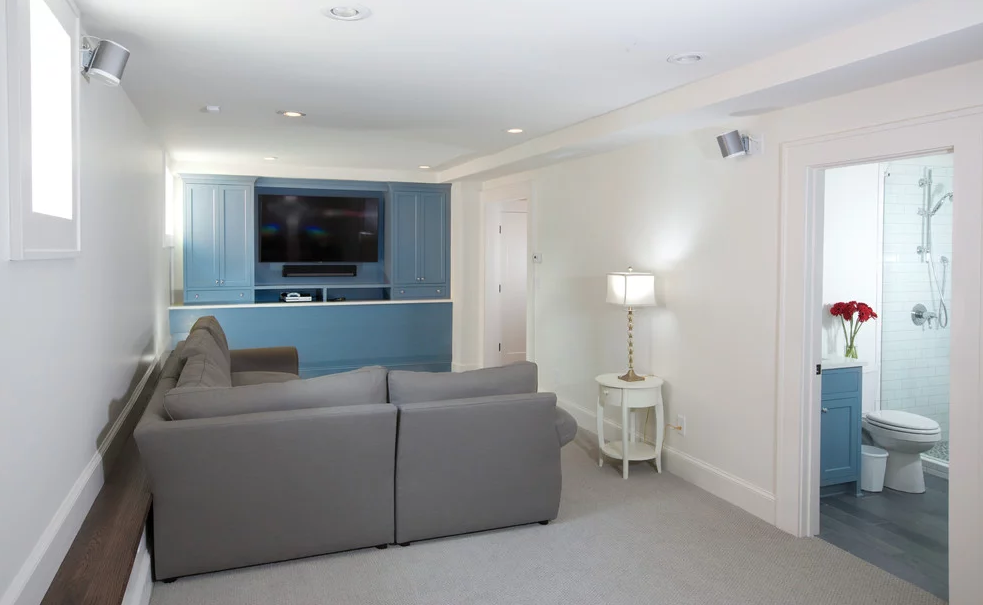 Why Should I Build a Basement?
When You Can't Build Up- A second story addition is often a comparable project to digging out a basement. This means that you may want to consider both before you make a decision. In some instances, adding a second floor might not make sense. For example, if you already have a second floor, adding a third one may not be practical or fit with the neighborhood. If you have an older home, your ability to build upward may depend on the condition of the existing structure. Sometimes, a basement is less work than making the rest of the structure able to support an additional level.
When You Can't Build Out- Like a home addition, excavating a basement gives you a fair amount of flexibility. Adding on to the main floor of your home is complicated. There are zoning guidelines that may affect your home's maximum footprint, as well as how close your addition can be to the neighbor's property or the street. If you have a small lot, you might not have many options for building out. Expanding your living space by building beneath can solve a lot of problems without creating others like these.
When You Don't Want to Move- Many people decide to sell their homes and move to a different house because they need more space. Moving may not be ideal for a variety of reasons. For example, you might live in a wonderful neighborhood with great schools and access to entertainment and dining. If you move, you can't guarantee that you will still have those amenities.
Increasing the space of your existing house may make it easier for you to reconceive it in a way that works for you. That way, you get precisely the house that you wanted, instead of the hassle and stress of selling your home, buying another, and moving.
How Much Does a Basement Remodel Cost?
Because you are significantly increasing the square footage and adding all the features you need for living space, you can expect it to be comparable to other types of home additions. Building an expansive basement from a crawlspace is one of the more expensive home improvement projects you can take on. The total cost will depend on the size of your current home, the condition of your existing foundation, and the finishing elements you choose. Getting an estimate can help you set a more exact budget for the project.
---
Digging a basement under your existing home is a lot of work, but completely worth it in the end. Building and designing a basement will give you the ideal amount of space and flexibility you need to stay in your home for years and years to come.